Coachella, the well-known music festival, is spreading its reach into the gaming industry by introducing Coachella Island in Fortnite. This virtual location will allow gamers to participate in the event from the comfort of their own homes. The island will be available in Fortnite via the "Epic's Picks" Discover row or by entering the island code: 5449-4207-12803 on April 14 at 3 PM ET. Alliance Studios designed the island, which features a virtual goods tent and Art Park, utilizing the game's Creative Mode. Virtual versions of the festival's most well-known art pieces, including the Coachella Ferris Wheel, Spectra, and balloon chains, may be found in the Art Park. It also includes two new art installations from this year's festival, as well as a Fortography exhibition.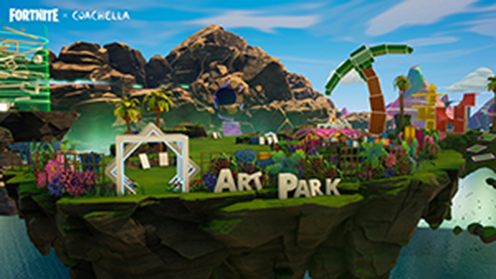 The island also offers music and art experiences created by the creators, such as minigames and missions. Users can listen to music and artists from Coachella's 2023 roster via the in-game Icon Radio. Coachella hopes to reinvent the festival experience by making it more accessible through new media and enabling musicians to lead the way. Fortnite gives developers and fans the tools they need to participate in the creative process. Coachella-inspired clothing and in-game goodies are available in the Fortnite Item Shop like they were last year.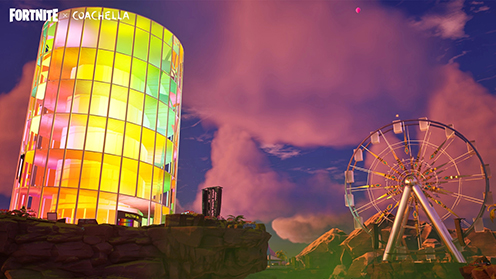 This year, two new clothes are available: the Sunset Alto outfit and the Desert Dawn Lyric outfit. The Sunset Alto costume includes a reactive Aurora Visualizer alt style, a reactive Sunset Swirl Back Bling, and a Crystalline Cactus Pickaxe. Desert Dawn Lyric comes with a reactive Aurora Visualizer alt style, an Airflow Vibes Back Bling, and an Electropalm Staff Pickaxe. Both ensembles perform tunes by Bad Bunny and Burna Boy, two Coachella 2023 performers. Outfits from last year will also be available in the item shop. With the advent of Coachella Island, the music festival is reaching out to new audiences and experimenting with new forms of entertainment and engagement.