Fast charging has been the new selling point in most of the mid-range and premium range smartphones. Most of the smartphones are running towards a bigger battery as the quick charge option charges the phone in the least time. Following the trend, Qualcomm has announced Quick Charge 5, which is known to charge a 50% battery on your smartphone within 5 minutes. Now that would be fast when it comes to charging your phone through a cable. The quick charge technology will come with many new safety and speed enhancements for safe and quick charging.
As per Qualcomm, "Quick Charge 5 is the first commercially viable fast charging solution that supports over 100W and is available for phone makers to use today". When compared to the quick Charge 4, the performance is 70% higher. The quick charge was tested on 4500mAh phone, where 50% of the battery was charged in 5 minutes and a full charge in 15 minutes. It has support for 2S (stacked) batteries and 20 Volts of power delivery.
The company is also releasing new power management ICs with the Qualcomm SMB1396 and SMB1398. The charging technology will come equipped with Smart Identification of Adapter Capabilities.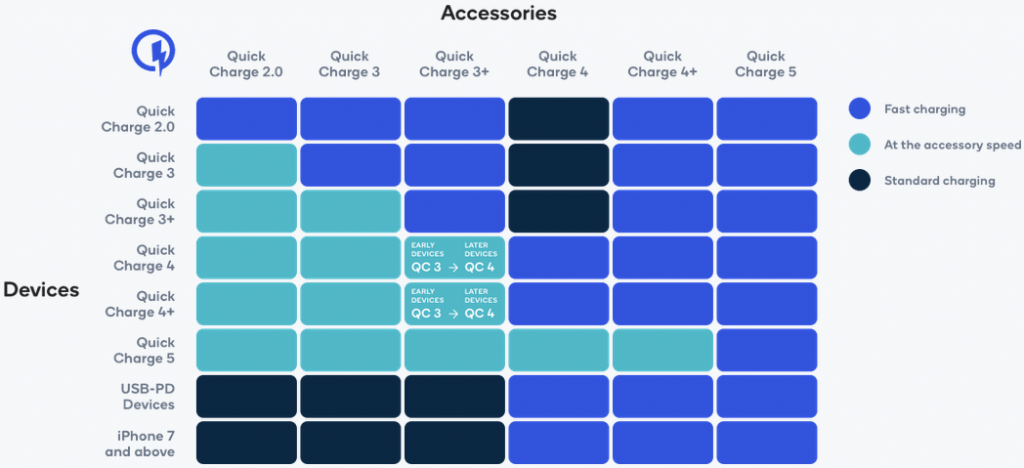 Instead of trusting the rating, the charging technology will monitor and verify the current, power, and voltage behavior to adjust the power output. It will not only charge the phone properly but will also increase safety while charging. The good things about the technology are that it will be backward compatible with version 2.0, 3.0, 4, and 4+ and take advantage of USB-PD and Type-C. The Quick Charge will be supported on both mobile devices and laptops is also supported by Snapdragon 865 and 865 Plus, as it is used in all premium and future smartphones. It is expected that the Quick Charge 5 technology will first come in Xiaomi's smartphone.