Xiaomi was working on a new update of MIUI 12 for a while and has released the name of 23 devices, which will receive the UI update in August 2020. The update will be sent on 17 Redmi smartphones, including the latest Redmi Note9 and eight series. The update will also be rolled out on the POCO F2 pro and POCO F1. Xiaomi provided the details of the update on the Indonesian version of the MIUI.com website.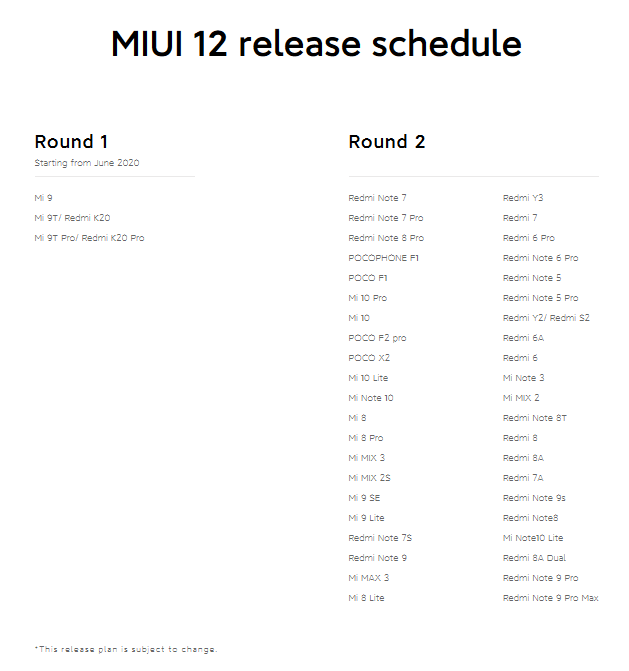 The updates are said to start rolling out in August and be available to all the selected smartphones in batches. The rollout of the update is expected to be global for all the Xiaomi devices. The most impressive thing is that the company has also added their older devices such as Redmi 6 to the update list, which is currently running Android 8.1. Below mentioned is the list of all the devices that will receive the update.
Mi 10
Mi Note 10
Mi Note 10 Pro
Mi 8 Lite
POCO F2 Pro
Pocophone F1
Redmi Note 9
Redmi Note 9 Pro
Redmi Note 8 Pro
Redmi Note 8
Redmi Note 7
Redmi Note 6 Pro
Redmi Note 5
Redmi 9
Redmi 8
Redmi 8A
Redmi 8A Pro
Redmi 7
Redmi 7A
Redmi 6A
Redmi 6
Redmi 6 Pro
Redmi S2
The update will bring along Xiaomi's Super Wallpapers on two devices: Mi 10 and POCO F2 Pro. Xiaomi also states that it will be bringing animation icons to just the Mi 10, POCO F2 Pro, Pocophone F1, and Redmi Note 8 Pro. Apart from this, the update will also bring a lot of better graphics transitions and features to the UI. MIUI 12 is said to provide many new features to different devices, based on when they were released and configuration.