Many mobile device manufacturers have recently revealed their sales numbers for the quarter, and the result was not up to the expectation. The same drop was also noticed among the US smartphone manufacturers in Q2 with a huge drop in sales, especially for OnePlus and Motorola. The companies did expect to see a drop in sales amid the lockdown due to Pandemic and many economies' slowdown. However, the actual drop in sales was away more than what was expected by the companies.
Every major smartphone company has taken a brutal hit and has suffered huge losses due to a lack of sales. Companies like OnePlus, Motorola, and LG have taken the worst hit during this period, while Apple and Samsung have also seen a major drop in their sales, but significantly less than others.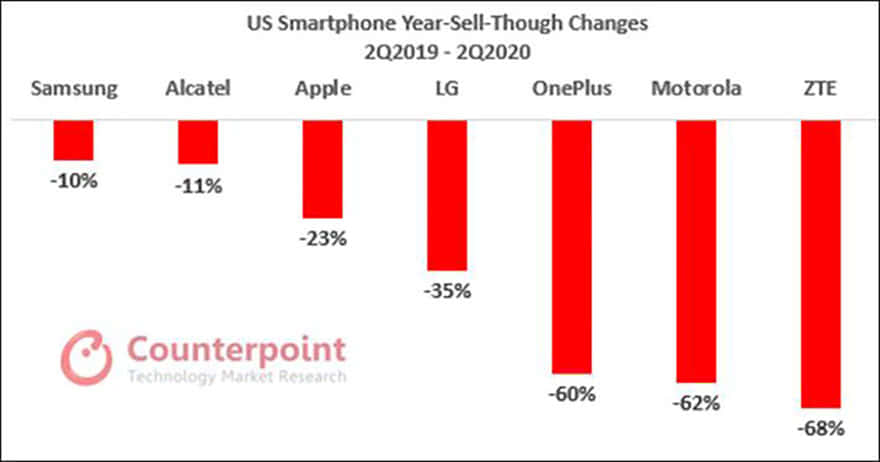 The data was provided by Counterpoint, showing a huge drop in sales of smartphones in the US from mid-March to April, as the country was going through lockdown, with every store closed. However, the company claims that smartphone sales have started increasing slowly since May and might be back on track in months.
The number seemed to be very bad for smartphone manufacturers in Q2 as Samsung saw 38% fewer activation of the smartphone, Apple numbers also went down 23%. However, the strongest hit was taken by LG, which was down by 35%, OnePlus with a drop of 60%, and Motorola with a decrease of 62%. The numbers were taken down the Q2 in a bad way.
However, the companies are very positive for the coming months as the business has started to gain pace again. The companies are all set to launch new devices to the market as business is returning to normal, and most of the online and offline stores are already open for business and sales.