Mobile games are one of the best sources of entertainment for all age groups with various genres to play. The games get better especially if you have an iPhone as the gameplay and graphic quality on those devices are next level. One of such genres that your children will definitely enjoy playing on their iPhones is cooking games. It's fun, and also helps your children learn about fruits, vegetables, and how they are cooked.
These games are very interactive for kids if you want them to learn about different vegetables and fruits and are also fun. If you are looking for fun and interactive games for your children then this article will list down some of the best android cooking games as well. The article provides some great graphics and gameplay on an iPhone. However, if you have an Android smartphone you are going to enjoy the game equally.
Also Read: Best Animal Games for Android
Since most of these games are available on both iOS and Android and are completely free to play and download, they will definitely provide your children with a fun experience. Let's have a look at 10 of the best cooking game apps that are available for your smartphone.
Below is the List of Best Cooking Games on iPhone
Cooking Madness: A Chef Restaurant Game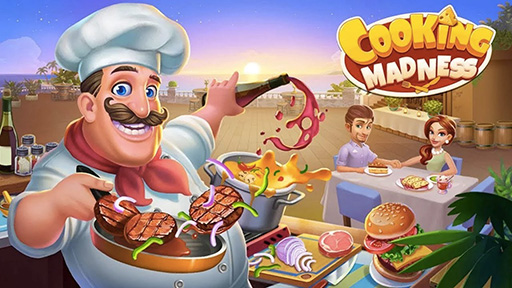 It is on top of our list because it is loved by all age groups equally. If you want to be a chef or have a soul of one, it would definitely engage you for long hours. The game takes you to various locations around the globe where you will be operating your own restaurant and attracting customers with your unique recipes.
Time will also be a critical factor in attracting more and more customers to your restaurant. It will also bring up new challenges with every level and is going to get tougher as well. As a chef, you will be responsible for creating new recipes and as you progress, new utensils, vegetables, and fruits will also be unlocked for your use.
The game is challenging and will force you to bring your best chef skills into the game. It is considered to be the best cooking game app for iPhone and is also available in android cooking games. It is completely free and does not take much space on your phone as well.
Download: Cooking Madness
Cooking urban food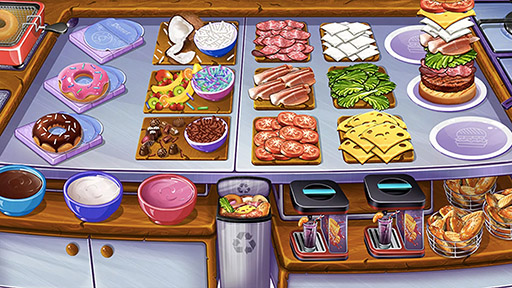 It is one of the most engaging cooking game apps that you will come across and especially if you always wanted to have a food truck. The game allows you to travel in your food truck while you will be creating some new recipes on the way. The best part about the game is that you are able to unlock a new truck for yourself after every two levels.
The major task in the game is time management, where you will be tested to serve the best food to the customers in the least time possible. Also, you will have to train your waiters, and invest your earnings further to upgrade your kitchen and other elements. The game comes with over 450 levels, which are further updated regularly by the developers.
The game also has coins that you will earn after every level and can also be purchased to advance in the game faster than usual. Considered one of the best cooking game apps, it will be a worthy game on your iPhone or Android smartphone.
Download: Cooking urban food
Cooking City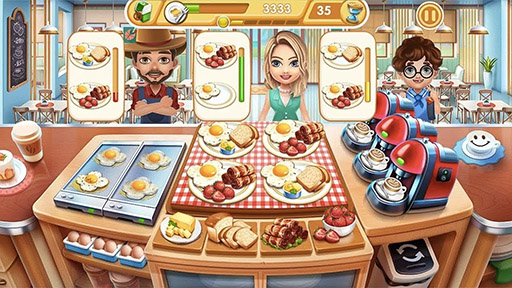 If you like fast-paced games, then this is definitely going to impress you and you can imagine it playing for hours. The game basically works on your cooking and time skills. You will have to cook as many dishes in the least possible time and as you go ahead in the levels, new recipes get unlocked.
The cooking game apps come with over 200 different recipes which is the highest number in any cooking game right now. The developers have been adding new recipes to the game in regular updates as well.
The game currently has more than 300 levels so that you can be engaged in it for a long time. The best part of this android cooking game is that you do not need any internet connection to play it. Therefore, it can be played in offline mode as well.
Download: Cooking City
Fruit Ninja®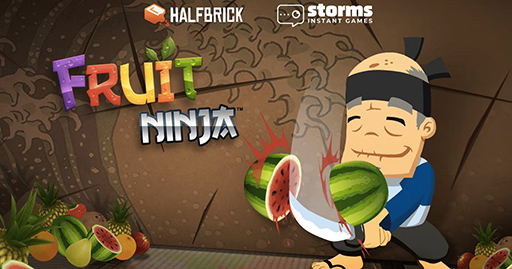 Possibly among the best cooking games apps and also the most popular on any mobile device, this game does not need any type of introduction. Fruit Ninja is one of the oldest and also one of the most popular games on smartphones and currently has millions of users worldwide.
Also Read: Best Open-World Games for Android
The game comes with various modes to play with like Classic, Arcade, Event, etc and the gameplay is easy. The game will throw various fruits in the air and you have to slice them using your fingers as a Ninja Blade. You will be surprised by the fact that it will keep you glued for hours.
The game is also recommended on big-screen smartphones and tablets for a better experience. The game also has many other mini-games in-built which makes it all the more interesting.
Download: Fruit Ninja
Burger Maker Fast Food Cooking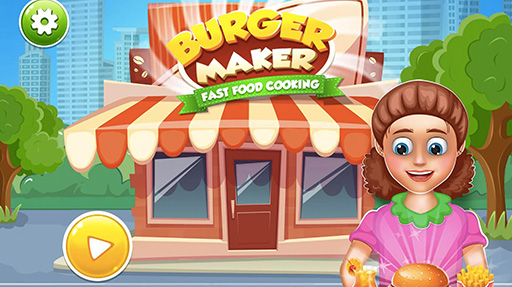 Who doesn't love burgers and some even like cooking them? If you love burgers and enjoy cooking them as well, then you will surely love this game. The game is simple and based on time-saving tasks. The clients are going to ask you for customized burgers and you will have to make and give them to them on time before they get frustrated and give you a bad rating.
Satisfied customers not only give you a good rating but tips as well. The more you play, the new recipes will get unlocked. Initially, it will be burgers and later sandwiches, desserts and a lot more will be added. The gameplay is such that it will keep you addicted for hours due to which it has become the best cooking game for smartphones.
Download: Burger Maker
Cooking Fever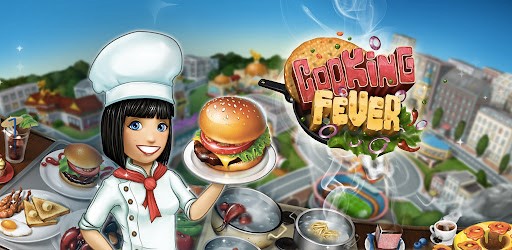 It is one of the most engaging android cooking games that you can play on both Android and iOS devices. The game allows the player to cook in various backgrounds like a restaurant, stalls, etc. Apart from this, the player will also be able to cook various recipes that belong to different parts of the world.
The game already has more than 1000 levels for players and is increasing with regular updates. The only issue is that you need to have an internet connection to play this game as it will sync online to save your account and details. The game is one of the best cooking game apps that you can get your hands on.
Download: Cooking Fever
Crazy Chef: fast cooking game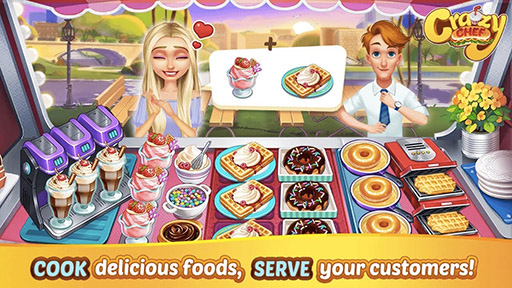 As the name suggests, the game tries to improve your cooking skills in the game by increasing your speed. The game allows the player to cook food as quickly as possible for the clients. Also, you need to make sure that the customers do not need to wait for a long period or they will leave and give a negative review.
As the level increases, it gets tougher and more challenging for the player. Apart from food, you will also have to prepare drinks like wine, coffee, etc. You will have to prepare tasty food and deliver it on time to get positive reviews and tips from the customers.
Later in the game, you will also be able to upgrade the utensils and other options in the kitchen.
Download: Crazy Chef
Streetfood Tycoon: grow your fast-food stand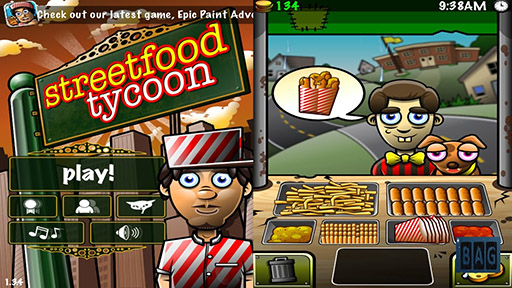 It is one of the best cooking game apps when we talk about the graphics and animation it delivers. The game makes you a street food vendor who has to sell various food options to the customers. While you are completing the level by selling the best dishes quickly you will also receive an option to serve VIP clients.
If you are successful in serving them properly, they will provide an extra influence that will attract more customers to your food. The game is currently available in English on both iOS and Android.
Download: Streetfood Tycoon
Cooking Mama: let's cook!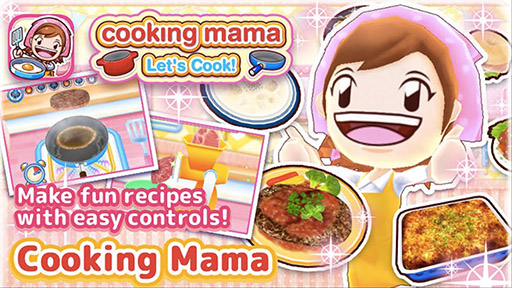 It is one of the most classic and best cooking game apps that you will find for your smartphone. It will help you create recipes from all around the world that are traditional in nature. Also, it will allow the player to have their own farm where they can grow vegetables and also take care of their animals.
The game also comes with more than 30 mini-games where you can test your culinary skills. It also allows you to challenge other people for a cooking challenge and show real cooking videos. The game is not only suitable for kids but also for adults. It is currently available on both iOS and Android platforms.
Download: Cooking Mama
Good pizza, great pizza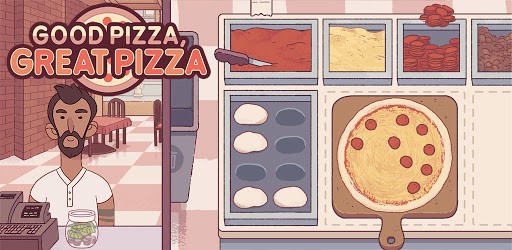 Lastly, a game where you need to cook delicious pizza in the least amount of time and get a positive review from the clients. The game provides you with your own pizzeria which you must manage to make money and use the best available resource for it.
As a chef, you need to use the best ingredients and satisfy the taste buds of your clientele. The app provides a very real experience as to how pizza is actually made. If you love pizza, then this is the best cooking game app for you.
Download: Good Pizza, Great Pizza
Conclusion
So here is the list of some of the best cooking game apps for iPhone and best cooking games android. These games are absolutely free to download and try and have hundreds of levels to try as well.
Also Read: Best Pokemon Fan Games Lists
They also provide in-app purchases which would help you to enhance the experience of the game. So, whether you have an iOS or Android phone, you will surely be enjoying these games for a long time.
Frequently Answered Questions
Q. Are all these games available on both Android and iOS?
A. Yes, all these games are available for free to download on both the operating system
Q. Do these games get updates and new levels?
A. Yes, these games are regularly updated by the developers, and new levels and challenges are added regularly.
Q. How do I get it for my phone?
A. Simply visit the Google Play Store for Android smartphones or App Store for iOS devices to download the games.
Q. Can I play with multiple accounts?
A. Yes, but the data cannot be merged later for two accounts.
Q. Do they work on older devices as well?
A. You can check the compatible device list on both the Play Store and App Store pages of the app.