Best Minecraft Skins: When it comes to the most popular games in the industry, almost everyone knows the name of Minecraft. The multidimensional game allows the player to build their own game and environment in a very different way. The game allows the player to explore many different options within the game that completely changes the in-game experience.
The game not only allows these changes from within but there are many other plugins and skins to make the game much more exciting and provide a new experience to the user. However, when it comes to customizing your character in the game and giving it a unique look, there are a lot of cool Minecraft skins available.
Also Read: Best Minecraft Resource Packs in 2023
There are a lot of different skins available for the character in the game however only a few of them can be considered as the best Minecraft skins. We have made a list of some of the best Minecraft skins that are available for the users and will certainly make their characters stand out from the crowd. However, to use a good Minecraft skin, you should also know how to apply it.
Applying the Skins in Minecraft
If you are playing the game for the first time, or have never applied any skin on your character, then we would definitely help you with that. Open the game on Windows 10 operating system and click on the Coathanger button in the lower right corner of your display while still on the main menu page. The next screen will show you the default skins that you already have in the game.
Simply click on the empty custom skin option on the right and you will find the option to choose a new skin. Select the option and it will open the Downloads folder on your PC. Simply select the PNG file you have created or downloaded online and confirm the switch. Once done, you will be all set to use the new skin for your player.
Minecraft Skin Categories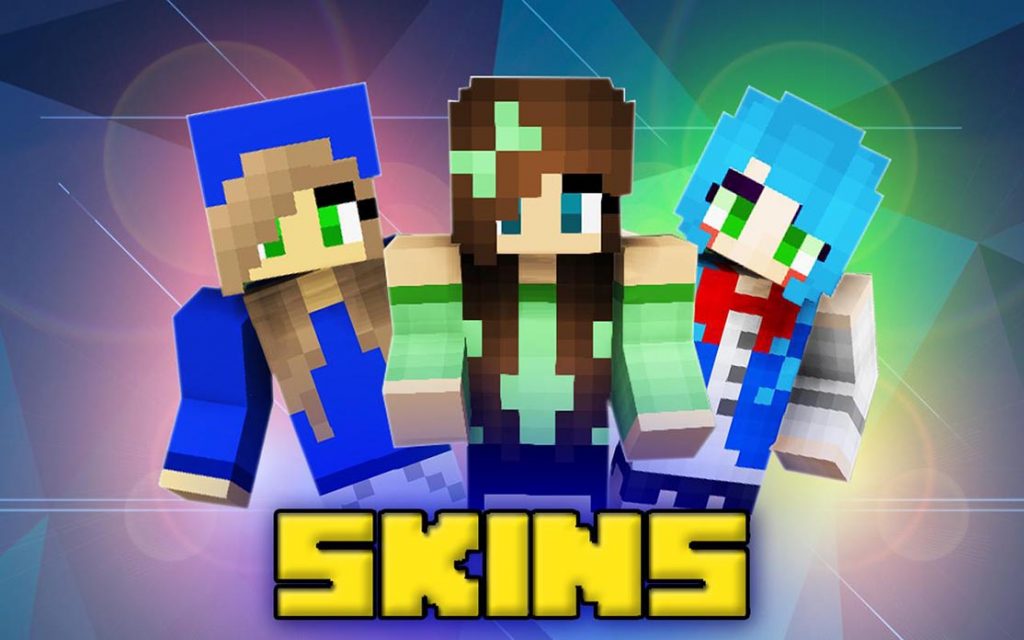 When it comes to the coolest Minecraft skins, there are a lot of options to choose from. The game has different types of skin categories like:
Animals: Jerry the Cow, and Chick-fill-A Pig are some of the most common animal skins that you will find in the game. It will make your character dress animal skin and clothes.
Fantasy: Be it a Fire Lord or a Ranger, fantasy skins are used to make their characters like superheroes or gods in appearance.
Games: If you are into manga, or games then you will definitely love these skins. Based on popular games like Pokemon, Dragon Ball Z, and more, these skins will definitely make you feel like you are playing the same game character.
Movies: It might be a bit surprising, but the game also has character skins based on movies. Venom, Spiderman, Ironman, Deadpool, and a lot more options are available for players.
Monsters: Ever wanted to be a demon or venom-spitting monster, then this is the skin you should probably opt for your character.
Mobs: One of the impressive game skins is Mob, allowing your character to dress like Bat-cow and Enderbrine.
Professions: You can also customize your character as a normal person who is dealing with day-to-day professional chores in their life. They can use skins like Army men, Conductor, Police, and even the President.
People: This category allows users to use GameBoy skins.
The Best Minecraft skins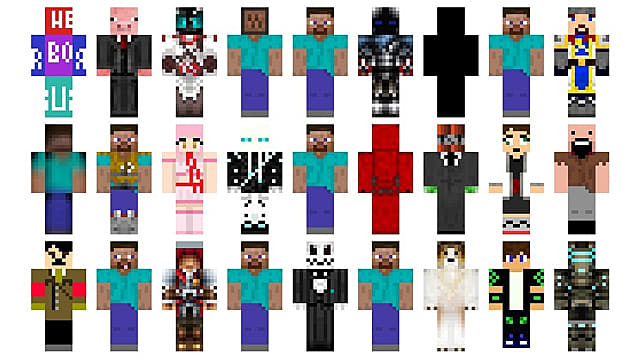 When it comes to the top Minecraft skins there are a lot of different options to choose from. Here is a list of some of the most popular and the best Minecraft skins you could go for.
One of Minecraft's best skins is Jabba the Hut. With this skin, you can dress up your character like a notorious and powerful gangster blob from the Star Wars Galaxy, and is even great for players who are Star Wars fans. The skin is available free of cost in HD 64×32.png format to download online. The see-through skin can be downloaded and will make your character look, unlike anything.
Now, who doesn't love Iron Man, if you are a true fan of the character, the skin is available for Minecraft as well. The skin already has more than 30,000 downloads online, showing its popularity of this skin. It is also one of the top and most popular Minecraft skins in the game. The skin will provide you with a cool metal head and recognizable hot rod color armor. You will also get palm thrusters and triangular chest pieces with the skin.
If you are a DC fan then you might love the Batman character as well. Minecraft players also have the option to download and use this skin for their players. It will provide the character with the same stubby little ears and cute breezeblock shaped head. Using this skin will provide a complete skin and look of Gotham's batman and will surely allow your character to creep through the night.
One of the cool Minecraft skins available for players also brings the Panda skin, which is probably one of the cutest skins you can apply to your character. The Panda skin is also used to generate additional roleplay points by consuming loads of bamboo and dropping Minecraft items off in a manner that will attract strong internet followership. The skin not only makes your character look apart but also benefits the player.
If you are a Star Wars fan, then you would definitely know about one of the most popular characters, Chewbacca. The same avatar that used to hang out with Han Solo, can also be applied to your character. It is a free & unlimited 64×32 format Minecraft skin suit. It is one of the best Star Wars-themed skin that you can get your hands on.
One of the best Minecraft skins created on the platform is Darth Maul, which can be downloaded in high-quality and transparent .png images for free. The Character's skin is badass in looks and will surely make you seem more like an aggressive and demolishing player in the game. It wouldn't be a surprise if other characters seem to be running away from you.
If you are a Marvel fan and especially an Avenger fan, then you should definitely try this skin. The formidable skin of the strongest bad character will surely make you stand apart. You can simply vanquish rival Minecraft mobs with a single Thanos snap of the infinity gauntlet. Ever since it was created, it has been one of the top Minecraft skins for players.
When it comes to animated or cartoon characters, the ice queen Elsa from Frozen has been a personal favorite for many. It has been brought recently to the game and has the ability to fly to any nearby snowy tundra, and then proceed to construct a gigantic ice fortress for yourself.
If you ever want to show your authority in the Minecraft world, then you should surely go for the Police Officer skin. It is one of the oldest and also one of the most popular Minecraft skins. Using this skin, the player is allowed to do almost everything, such as going around places and breaking the law.
This is another top Minecraft skin that you can go for in the game if you like the big and strong character of Hulk. Playing your character in the enormous raging monster skin would definitely provide you with a more thrilling and entertaining experience in the game. You would love to smash things around you and do almost anything you want.
Conclusion: Best Minecraft Skins
So these are some of the best Minecraft skins that you can probably go for in the game. The best part about these skins is that they provide the character with a different kind of gameplay and also with a unique experience of their own. Since these skins are also free to download and use, it makes it really easy for the players to rev up their game and make it more interesting.
Also, Read