Running a business is not easy and especially when it has been recently started or is a small-scale business. If you own a business or are starting one, then you would agree to the fact that one of the most important aspects of a business is growing. Without it, the business will become stagnant and will not help you increase your revenue or customer base.
When we talk about a large-scale business, they already have all the departments organized in a certain way that every process is streamlined. However, when we talk about a small-scale business, managing a business is one of their topmost priority for business growth.
Also Read: Best Webinar Software Platforms
Now the best way to manage a business and its different aspects to make them work in sync are through a CRM platform. A CRM platform not only allows you to manage the business and help in its growth, but it also helps to record the stats of a business which can be used as a reference to manage clients and customers and planning for your business's future prospects.
A client relationship management software for small businesses helps to lay the foundation which enables business growth.
Why do we need a CRM Software?
One needs to understand that no matter the scale of a business, it cannot be handled by a single individual or a small group of individuals. The amount of data or information processed in the business is way too much and also dynamic in nature. Due to this, we need the best CRM software to manage all the information related to the business.
A customer relationship management software helps the company to manage and keep all the details in one place. One of the most primary use is to manage the details of the clients, employees, and customers for any future reference. It also helps to store their details like phone number, website address, social media accounts, etc.
It helps to track their activities and get feedback over the services which saves a lot of time.
---
Benefits of using a CRM software
A CRM software for small business comes with a lot of benefits and helps to save on time and resources, which eventually leads to the growth of revenue and clients for a business. The CRM softwares for small businesses helps to promote smart managing of various departments in a business so that they could have the information readily available and are able to work in sync with each other.
A CRM platform would have all the information related to business contacts. Therefore, a business can keep a track of the interaction with clients and customers and the kind of issue they were facing with the resolution provided.
It helps to understand how a client is dealing with the business and what are their requirements. Business calls, meetings other details with the clients are recorded in it.
The best CRM software would not only record the activities of clients, employees, and customers but also helps to understand the current status of business with them. With that data, the company can make forecasts for the future. A top CRM software would help you to manage the work and predict the sales and revenue a business would have in the future.
A client relationship management software for small business is not only used to track down the clients and customers but also to track down various activities of your employees. Managing their payments, their performance, logging notes, reminders, etc. It can help the employees to be more efficient by simply having a glance at their data through the CRM platform.
The most important benefit of a CRM softwares for small businesses is that it increased company growth and also provides much better revenue and profitability. Since all the different processes and departments can be managed using this one platform, every process is executed efficiently, backed up by facts and data provided by the CRM platform.
---
What should be the criteria to select a CRM software?
CRM software is really popular among small to medium-scale businesses, as it automates every function and helps the company to focus more on growth rather than managing smaller tasks. Due to this, there are many different client relationship management software for small business available in the market.
Having so much software available makes it difficult for a company to select the best one for them. However, there are a few points that a company can keep in mind before selecting and implementing a CRM platform.
The first and foremost thing for a company to do before selecting the best customer relationship management software for small business is to note down their requirements. Not all CRM software that is available in the market will be able to fulfill all your needs. Therefore, having a list of requirements is the first thing that will help you to shortlist the best option available out there.
Adding contact for clients, customers and employees should be a breeze in CRM platform. It should allow the users to add the contact directly through e-mail and import it from any other platform as well. If it only allows you to enter the contact details through the CRM platform, then it is not efficient software.
Apart from adding details to the software, it should also have the facility to update itself automatically and not by manually entering the data through an employee. Automatic sync and update help to reduce the manual work of entering the data and helps to save on time, which could be used for other important work. It also helps to record all the sales data as it happens in real-time, giving you a real picture of your current sales and revenue.
Contacting your clients and customers becomes automated through CRM software. It automatically sends notifications to them regarding any changes, new launches, and updates. These can be done through e-mails, calls, messages, and more. Also, these can be scheduled to be sent on a particular date.
---
The Best CRM Software for Small Businesses
Now there are a lot of online when you search for "what is CRM software". However, the best CRM for small business is the one which satisfies all your needs for business. It is why we have prepared a list of some of the best CRM software that is available for business. All these come with the highest satisfaction rating and are known to provide almost every feature a business would require for growth.
---
SalesForce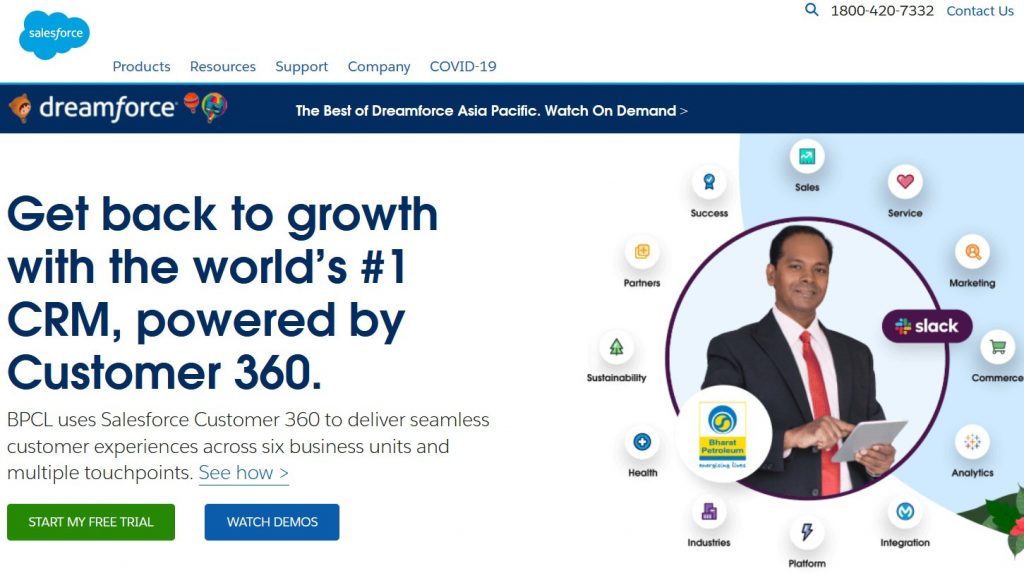 It is perhaps one of the most popular and best CRM for small business that you come across while searching online and is used by some of the best companies in the world. If you are looking for a CRM for small business, then you can go for Lighting Essentials which is a basic edition of their platform. It is one of the top CRM software that is used by small business for efficient managing and comes with a lot of great features like advance contact manager, e-mail integration, follow-up notification, and more.
This CRM softwares for small businesses comes with customizations as per the requirements of a business. Once it has helped your business to grow, you can select and subscribe to a better version of it. You can subscribe to Lightning Essentials package for just $25 every month and Lightning Professional for $75 every month.
Website: www.salesforce.com
---
ZOHO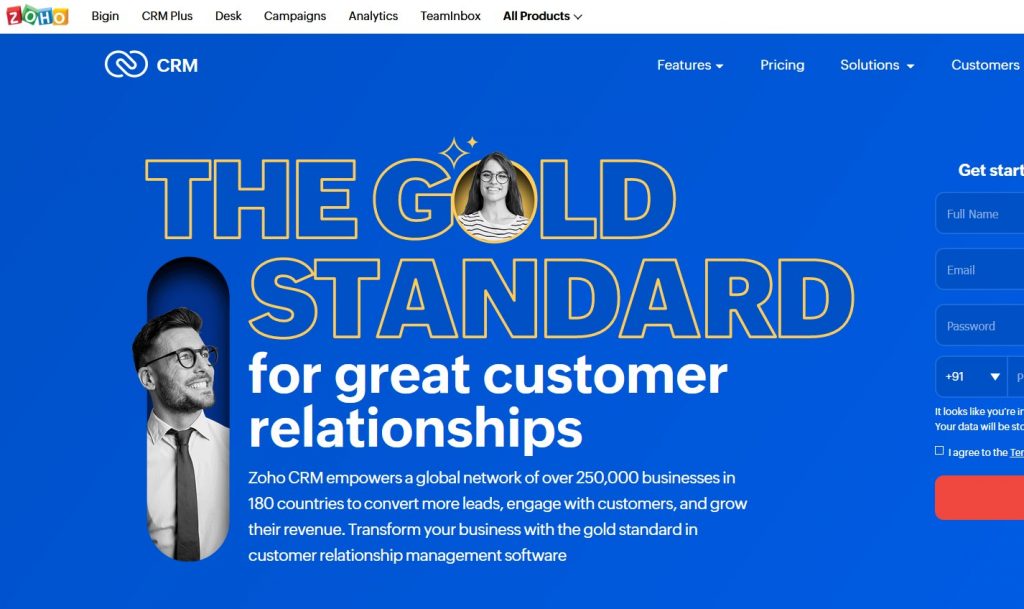 Zoho is comparatively new to the field of CRM but still has a lot of experience under its belt with the product. It is why, it is considered to be the best CRM software a small business can get. It comes in a Standard, Professional, and Enterprise version, depending on your requirement and scale of business. It has some really great features which help to manage sales and marketing, tracking of website, leads, sales, and also provides customized notification.
Even with the standard version of this CRM for small business, you can boost your business growth to a whole new level. The standard version will cost you $12/month, the professional version will cost you $20/month and the Enterprise version will cost you $35/month. It is a very cost-effective CRM platform and it is recommended that you go for the professional or enterprise version to get the best out of it.
Website: www.zoho.com
---
Hubspot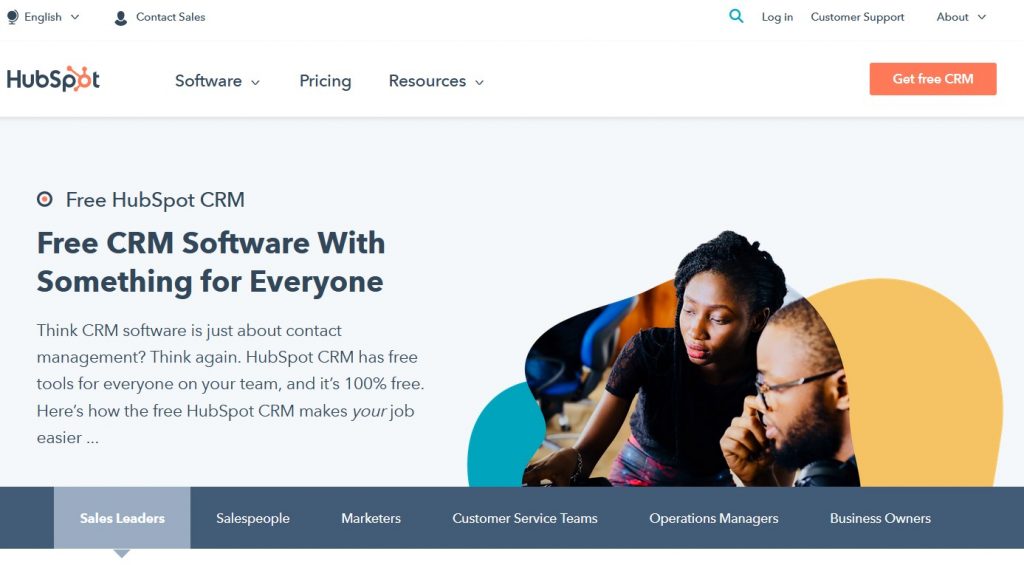 If you are not ready to invest right now into a CRM software and want to check how it works and how it can contribute to the growth of your business, then you can definitely go for HubSpot. HubSpot is a free CRM for small business and is very popular among small business enterprise. It allows the company to keep a track of contact, companies, deals, and sales data.
The dashboard of this free CRM app is so easy to manage nd view that you can track all the activities in the company at a glance. The best part about this is that this free CRM for small business provides integration with various popular third-party apps like Shopify, Microsoft Dynamics, and more. If you really like the free CRM app, then you can also upgrade to the paid version which starts at EUR 41/month.
Website: www.hubspot.com
---
SalesFlare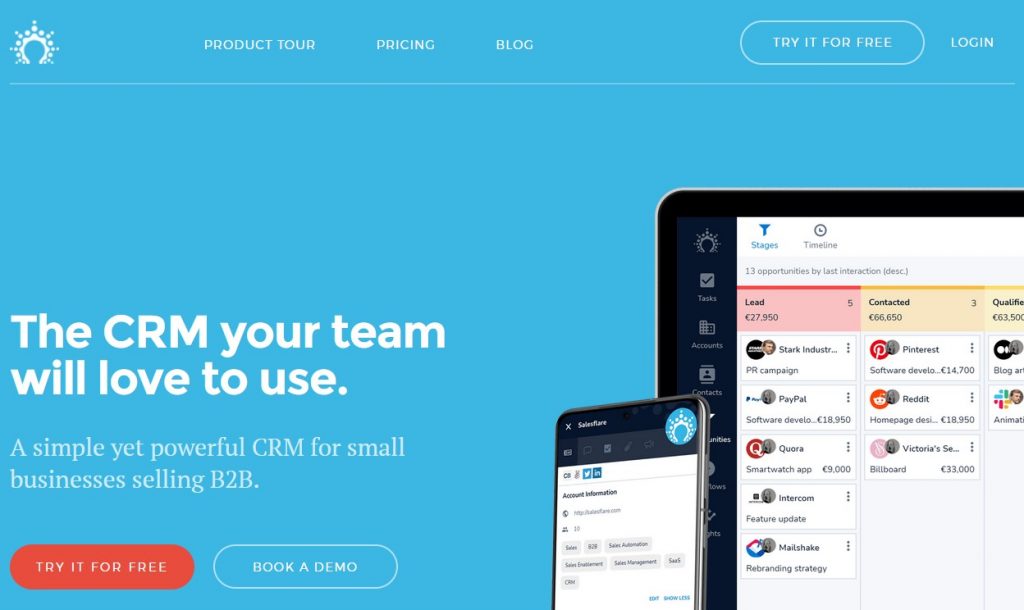 One of the key requirements for many businesses from CRM softwares for small businesses is assistance in sales, which can help the companies to boost sales and revenue. If you are looking for something similar that can help you with Sales dominantly, then this is the CRM platform to go for.
The software can automatically sync and get the most updated details for you to view. It has been created especially for medium to small-scale businesses. The CRM software would cost you around $30/ for every user and per month.
Website: salesflare.com
---
Capsule CRM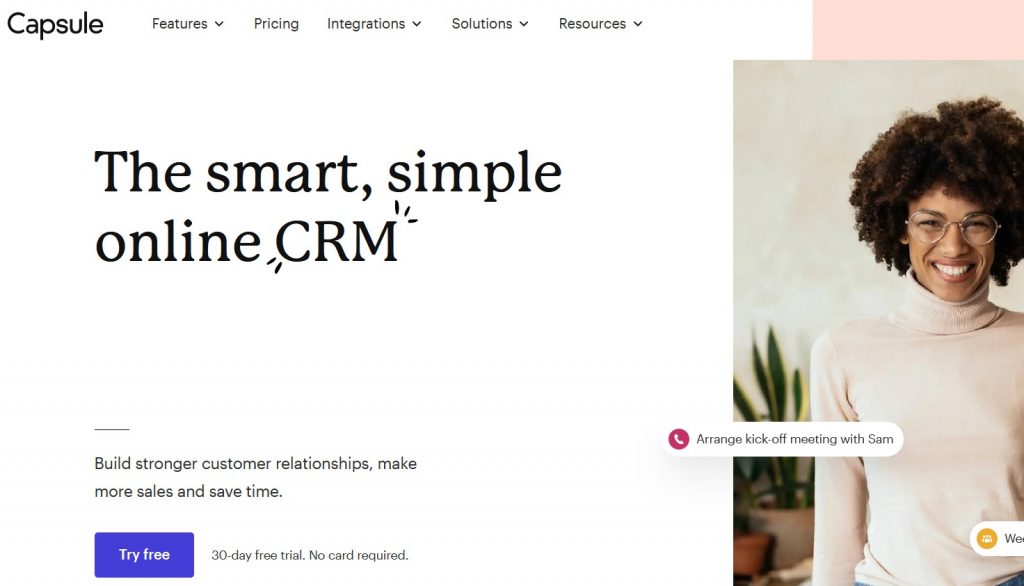 If you are looking for free CRM for small business, then this is another great option that you can go for. It is one of the easiest customer relationship management software in the market and every detail could be easily checked on the dashboard. Now a single dashboard on the software has been divided into segments so that you can have a look at all your business aspects at a glance.
However, when it comes to reporting and campaigns, it might not provide you as much functionality as the paid version. You can use the free CRM app for up to two users after which you will have to pay £12 for every user/per month.
Website: capsulecrm.com
---
Microsoft Dynamics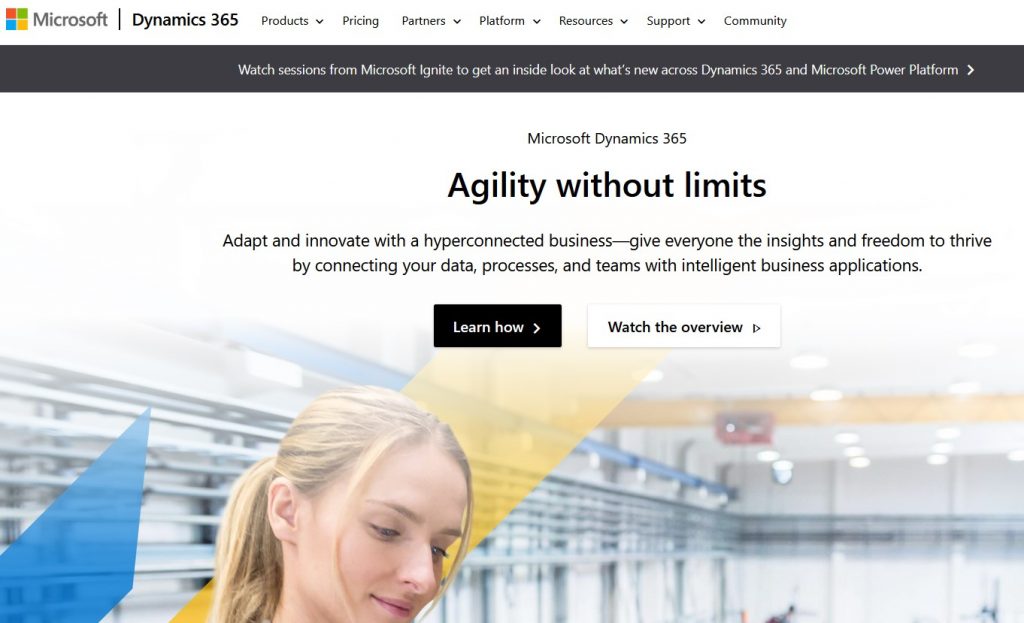 Who does not know about the company Microsoft, and if they offer CRM solutions to businesses, you can be assured that they will provide everything possible. Microsoft Dynamics is a great CRM software for small business. It is an all-in-one platform for sales and marketing and has a lot of features when it comes to CRM. It can also be used in integration with other Microsoft products as well.
The interface will take a bit of time for new users to get used to, otherwise, it is one of the best and most professional CRM tools in the market. You can get various licenses for this app starting from € 42.20/user/month.
Website: dynamics.microsoft.com
---
Streak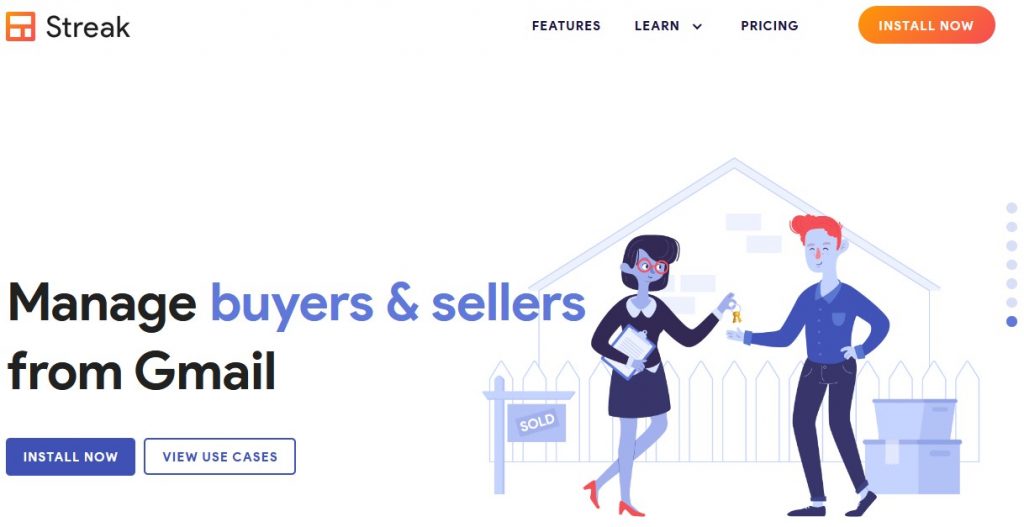 If you use Gmail for contact, email communication, and email campaigns, then Streak would be the best customer relationship management software for you. It has been specifically designed for businesses that are managed by smaller teams and is available as a plugin for browsers.
It would help you to track and manage e-mails, mass e-mails and also create different threads for different teams you have communicated with. The subscription for the same starts at $15/ per month for each user. It is one of the best CRM softwares for small businesses and small teams.
Website: www.streak.com
---
Nimble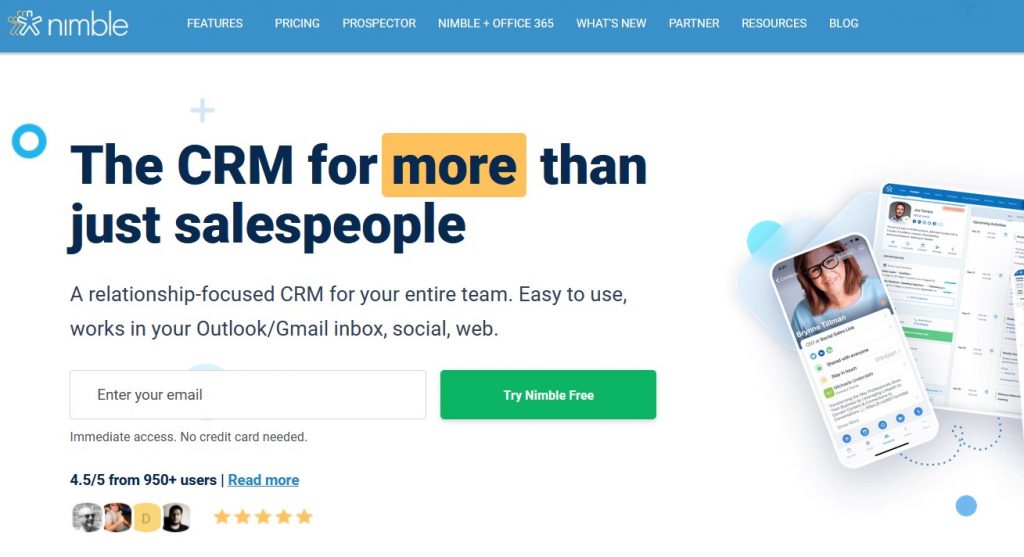 When it comes to managing business contacts on different platforms, then Nimble is the best customer relationship management software for small business. It can help you combine contact on email, social media, and others in one place. It also provides you with the key details and provides a to-do list as well.
As per your activity on the system, it will try to predict the relevant contacts and would also remain you to stay in touch with them regularly. This CRM for small business is basically meant for those who know that communication is important for staying ahead in the game.
Website: www.nimble.com
---
Conclusion
So here are the top CRM software that you can find online. While many of them will provide you with a free trial, you can also upgrade with a monthly subscription if you like the services. The paid version will provide you with more features and license to use it for multiple employees. You can simply pick one up and try it with your business for better management and growth in sales and revenue