When we talk about marketing or interacting with a large audience in today's world, it is almost impossible to do so with old techniques and applications. The new age world is digitally connected and allows people to interact with each other through any part of the world. It not only has personal advantages, but it has also proven to be useful for business as well. One of the best ways to connect with a large number of people at once is through webinar platforms.
A live webinar is a platform a person can invite and interact with a large number of people and talk to them at once. It is one of the best marketing ways in business as it allows a person to showcase their products and services to people all over the world, without having to physically meet them. These webinars are done through webinar software, which can be bought or downloaded online. It is not only individuals but a lot of different companies that are turning to webinar tools to connect with a large audience.
Webinars have been an important tool of communication, but the sudden surge of using such webinar services increased many times after the Covid-19 pandemic. Since every country had imposed a lockdown, things like business, education, and a lot more had to be done through a home or a certain location, without having to physically move from one place to another. It is where free webinar software came to be very useful for people as it allowed them to take classes, interact with employees and promote products absolutely free of cost.
Webinars are not only great for letting people know your ideas and products, but it has also helped companies to interact with customers in real-time and get their important feedback. You must have noticed a lot of free webinars online where people invite you to listen to a person regarding a product or service they are trying to sell. Webinar services are similarly used by educational institutes and organizations to teach a large number of students or classes in real-time. It makes sure that even though children are at home, they won't miss getting an education.
Benefits of using online webinar software
When it comes to the benefits of using a free webinar platform, the benefits are many, both personal and professional. Let's have a look at why webinars are one of the most important tools in communication and marketing in this digital world.
A live webinar is one of the best ways to connect with thousands of people at a single point in time, while they listen to you in real time.
If you want to connect with a large group of people from different locations and countries, then an online webinar is the only way through which you can do so.
One can save a lot of time and money through online webinars, as these are mostly free to download online and helps to connect with a large number of people without having to go and meet them physically.
These free webinar software are available for every device and operating system; therefore, you can use them on any device and talk to people, be it your system, your smartphone, or any other device.
Now, most of these are totally free to use personally and also provide a certain limit on free webinars. However, you can always purchase their premium service if you are using the webinar tools for business purposes. It is very cost-effective and worth the value you pay for. So let's have a look at some of the best webinar platforms you can go for.
Below is the list of the Best Webinar Software Platforms Online
Demio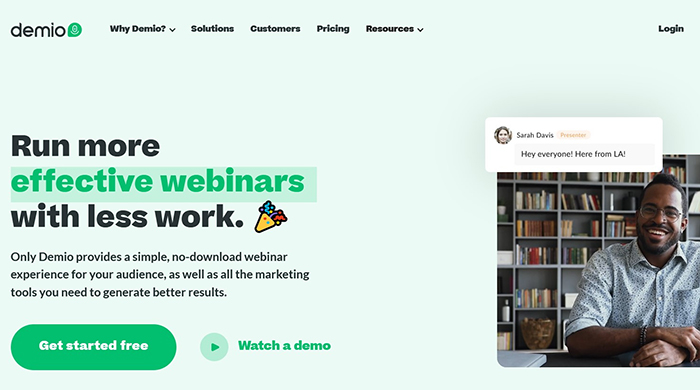 Demio is one of the most popular web-based tools when it comes to the best webinar platforms available right now. It is great for both personal and business news and a very critical tool in marketing. The platform can provide users with real-time HD video streaming and ease of use. You do not need to download the software and install it on your system to use it.
It could be used directly on the web and provides features like replays, registration landing pages, and a lot more. Although it is free, you can also get a host of features and webinar tools by subscribing to their paid premium plans. Premium plans provide you with 24/7 support, unlimited webinars, more storage of 100 recordings, and a lot more. Since it is based on a cloud platform, this live webinar platform can be accessed from anywhere and provides in-built analytic tools for insight.
The platform also provides event reminders and email automation for businesses. You can try out Demio for the first 14-days for free and if you like it you can purchase a plan, starting from $34/month, which will provide you with a webinar room, allowing 50 people.
Similarly, a $69/month plan gives you a webinar room of 150 people and a $163/month plan gives you a 500-people webinar room. Overall, it is a great online webinar tool that can be used to manage your personal and professional webinar sessions.
---
WebinarNinja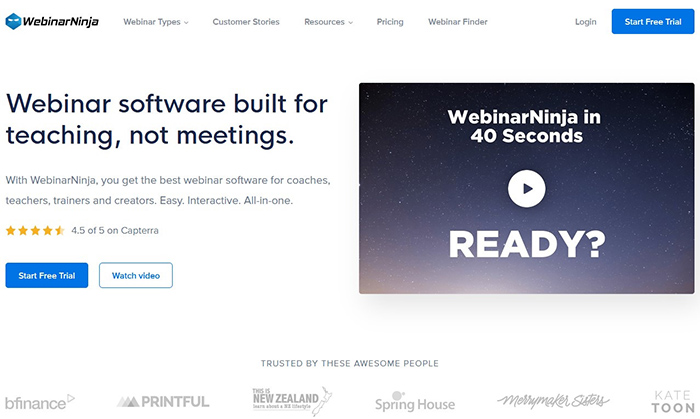 WebinarNinja provides users with all-in-one webinar services. It is not only used by many individuals but is also a popular choice among many popular businesses. When it comes to webinar tools, it is probably one of the easiest to use out there. Even a new user can create a webinar event in under a minute.
With these webinar services, you can create different types of webinars. It has live webinar sessions which can be used for live audience interaction. Automated webinar sessions are also a part of this where the webinars can be scheduled to play automatically at a certain time. One can also do a series or group of several webinars.
Lastly, the users can do a hybrid form of the webinar which is a mix of both live and recorded videos. When it comes to webinar services, it is probably what most business users use today. It comes with a lot of different benefits as well, such as live chat support for users and live screen sharing which is blazing fast.
The users also get an option to run polls on their webinars and get real-time results from the viewers. The free webinar platform also provides automated email campaigns and custom registration landing pages. It also allows the user to integrate around 1,000+ apps with Zapier and provides an analytic dashboard to check the audience viewership in webinars.
Their webinar services come with a free 14-days trial and later it can be upgraded to a premium plan which starts from $39/month and offers 100 viewers per webinar. The $79/month plan will offer you 200 viewers and the ability to create webinar series.
Last would be the $129/month and $199/month plan which gives more advanced features. If you are looking for advanced features and ease of use, it is probably what anyone would recommend you to go for.
---
LiveWebinar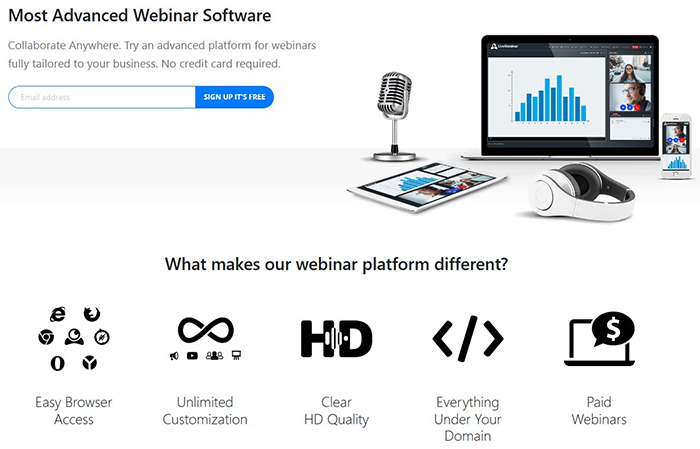 As the name suggests, LiveWebinar is one of the cloud-based webinar platforms, which provides users with live webinar tools and sharing. The live webinar platform can help users to host live webinars, share screens and record the screen as well during the webinar. It also allows the user to broadcast live webinars on their social media accounts.
To use the tool, one does not need to download and install it. It can directly be used on the web through the internet and using the browser. The phone tools easily work on any device like a system or smartphone and help to invite members as well. The best part about this service is the integration with social media platforms which allows the users to expand their reach. It supports popular social media platforms like Facebook, YouTube, Vimeo, and more.
The video streaming and recording can be done in HD and can be shared and embedded in any external site as well. It does provide the user with analytics tools and other advanced reports for their webinars. The live webinar tool also provides additional features during webinars like conducting polls, call-to-action buttons, and more. Also, webinars can be customized with various templates and colors of your brand. It does support real-time language translation in chats and is completely free for webinars with 5 viewers.
---
EverWebinar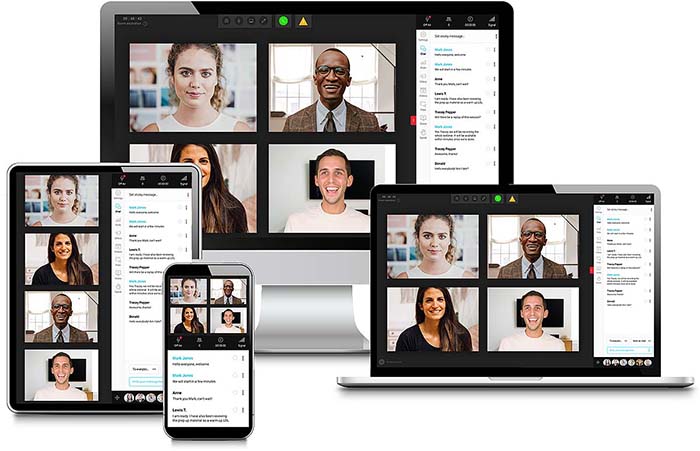 When it comes to automated webinars and the best webinar tools on offer, EverWebinar is the topmost and also most used webinar platform. The best part about the platform is its automation which allows the webinar to be automatically recorded and saved in the account. The webinar services will take only a couple of minutes for you to set up the entire webinar and is great for meeting the needs of a small to medium business.
One of the features that are provided to business users is that it allows the companies to show fake viewer count on the webinar, which would make people think that more and more people are watching it, which is a type of marketing and promotional technique. It also has an advanced scheduling system that helps to block unavailable dates and has auto time zone detection.
To use these webinar tools you will simply have to pay $1 for a 60-day trial and later you can pay $41/month to get all the automated and premium services. Since it is cloud-based and automated, it is a great choice for business users.
---
My Own Conference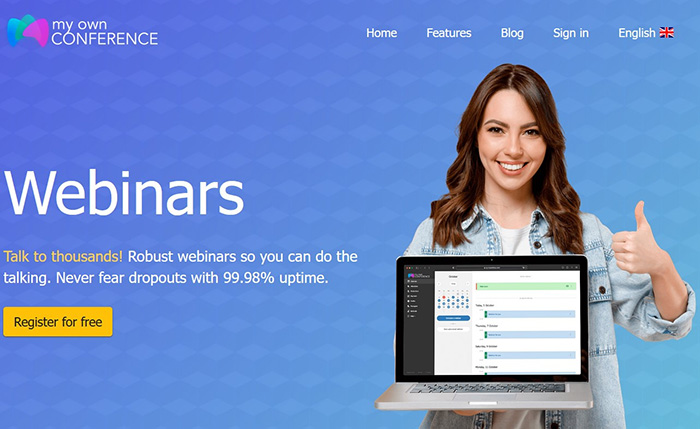 One of the major drawbacks of most webinar platforms is that they do not allow many options to connect with the viewers during or after the season. It is where My Own Conference gains the advantage.
One of the most popular features it offers is schedule view which allows a user to see multiple webinars in one place. In the free version of the tool, you can do a webinar with up to 20 viewers. It also provides a lot of collaboration tools that allow the integration of other apps and also allow the users to connect with each other even after the webinar ends. The streaming is provided in full HD and there are a lot of sharing features during webinars.
Since it is a web-only service, you can directly access it through a browser. It also comes with white-label solutions for agencies and brands and supports 16 languages which make it easier to communicate with people all over the world.
The free plan of the live webinar platform provides the user with 500MB of space, but the paid version gives a lot more and starts from $30/month which gives access to 60 attendees, $51 for 150 attendees, and $250 for 1000 attendees.
---
ClickMeeting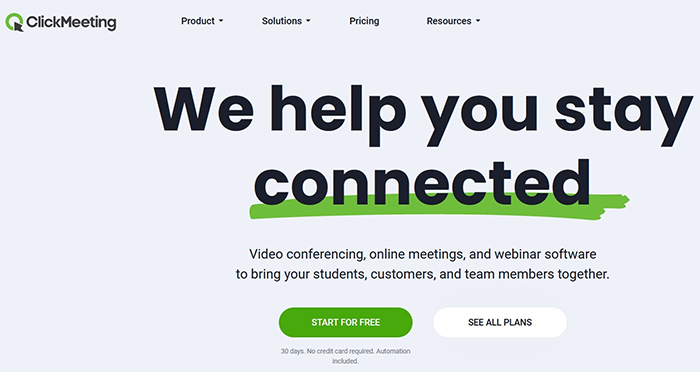 ClickMeeting is one of the oldest and also one of the most recommended webinar platforms on the internet. This free webinar platform is regarded as the best tool when it comes to business sales and marketing. However, it does not mean that it could not be used for another purpose, but it is still more suited to different tools for business marketing.
It also comes with automated features and customized invites for the audience. The free webinar service also provides polls and surveys for the audience after the webinar has ended and connects with Facebook and YouTube to increase engagement. The webinar videos can be recorded and saved in cloud storage in HD quality.
Apart from the 30-day free trial version, it charges $25 and $35 per month for 25 and 50 viewers per webinar session. Also, there is an option for a custom plan, for which the pricing will depend on the feature you opt for.
---
GetResponse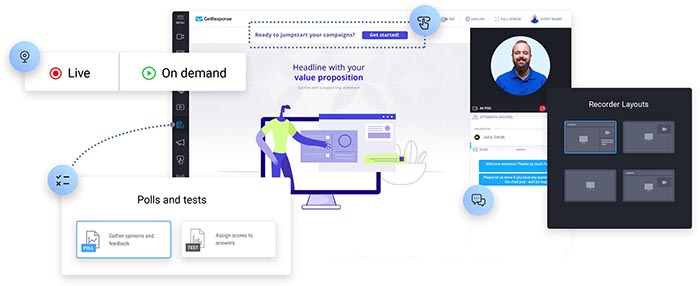 GetResponse is a free webinar service that primarily focuses on email marketing platforms. Due to this, it is a great marketing tool for business as well. The platform provides a complete webinar marketing solution to business users and allows them to set up the webinar in a couple of minutes.
It has webinar tools like an autoresponder, customized landing pages, list segmentation, and a lot more. It also allows the user to provide customized URLs for webinars instead of those long links. It has a lot of different templates for webinar invites and has a one-click webinar recording feature.
The user gets a 30-day free trial after which they can choose from various plans where they have to select between monthly payments of $49, $99, and $1,199 per month. These three plans allow 100, 300, and 500 people as attendees for webinars.
---
Livestorm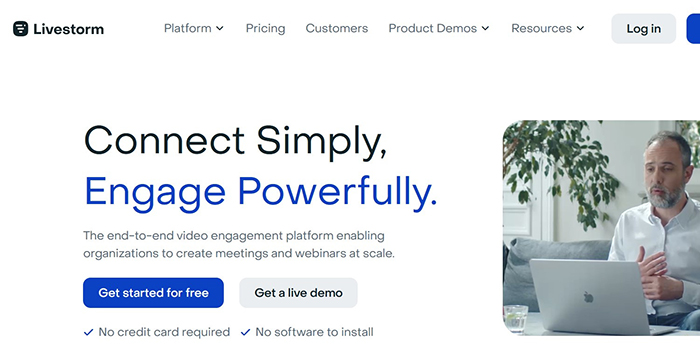 It is currently one of the most used webinar software on the internet and also one of the most recommended. You can use the platform on any browser and through any device. The free webinar platform provides live sessions, on-demand sessions, and automated webinars as well and their video streaming is in Full HD quality. This platform is also great for online education institutions and interviews.
It also has a great email marketing plan along with personalized services for each user. The overall setup is easy and provides you with a lot of theme options for customization. Also, it provides you with analysis and multi-language customer support. It provides the user with one-click sharing capabilities and unlimited storage for recording.
Apart from the free plan, you can get a $99/month premium plan which gives you a 4-hour limit for webinars. Lastly, there is an Enterprise feature where the cost would depend on the personalized service one takes.
---
Adobe Connect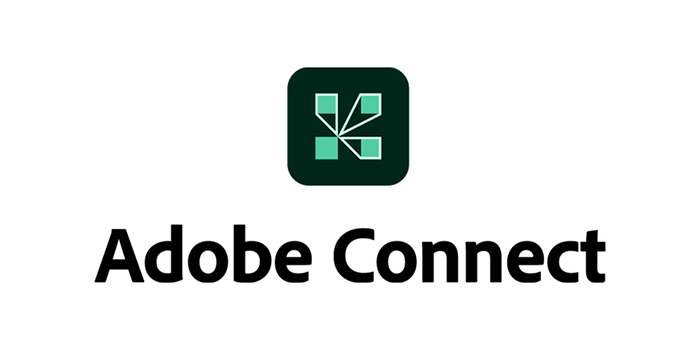 Adobe is one of the most common and popular names on the internet and you can be assured that any service from them would bring the highest standards. Adobe Connect webinars are one of the most trusted among business companies as one of the most reliable webinar platforms.
The webinar services of Adobe Connect not only create webinars but also help to share files, and documents for better interaction. The hosting room can also be customized as per the requirements. It is the best webinar platform you will ever come across and helps to create unique registration pages along with a long list of customized templates.
The webinar service can also be used to reach a large audience through polls, surveys, blogs, and more. It can also be used to integrate sales and CRM software like Eloqua and Salesforce, which makes it a complete business tool. It is without a doubt, one of the best online webinar services you will come across, but it also has a big price tag with it. You can pay $130/month for 100 viewers on the webinar and $470 for 500 viewers. Last is the subscription with $580 for 1000 seats.
---
Google Hangouts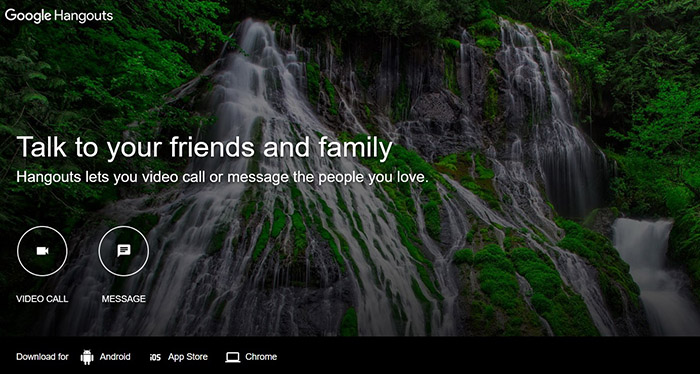 Google Hangouts needs no introduction just like Adobe and is one of the oldest tech companies to be in existence. Google Hangouts has been there forever. However, after the pandemic, the webinar platform has developed into a complete set of professional webinar tools.
Google Hangouts is completely free and provides most of the premium services which are otherwise paid for on different platforms. The free account allows a 30-viewer cap and an unlimited cap if streamed through YouTube. Google Hangouts can handle any type of user requirement, be it personal, small business, or large business. Also, the webinar can be created easily in under a minute. Since it is an online web tool, you do not need to install and download it.
This is a genuine free webinar software that can provide you with almost all the features you can expect.
---
Zoom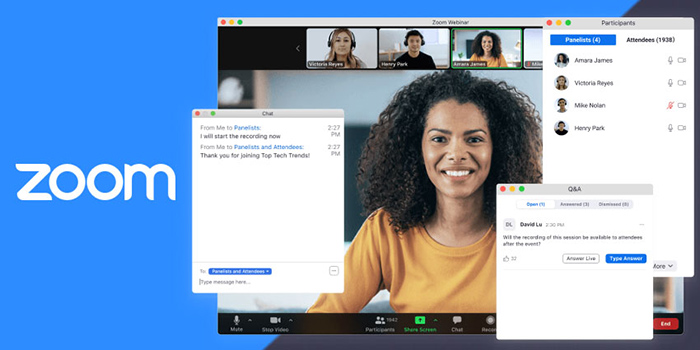 Lastly, we are here with the most popular name in the segment of webinars. No Webinar list can be completed until it includes the name of Zoom. Zoom is currently one of the most popular and most used webinar software around the world.
Also Read: Top 10 Free PC Cleaner Apps
The webinar software can be used both through the web or either be installed. It has one of the best cloud-based interfaces for the user and can easily set up webinars and share through a single link. It not only provides some of the best video and audio quality but is also the primary choice of educational institutes and business companies. The webinar services also provide integration with apps like Microsoft Outlook, Google Calendar, and more.
It provides access to up to 100 viewers in free mode with one Webinar of a maximum of 40 minutes. For more features, storage, and webinar time, one can go for premium packages that cost $14.99 and $19.99 per month.
---
Top Free & Best Webinar Software on the Internet – Our Picks 👌
We have listed below the top free webinar platforms that you can use for your business needs. Try them out and let us know, which one suits you the best.
| | | |
| --- | --- | --- |
| Software Name | Release Date | Developer |
| Demio | July 1996 | Carolyn L. |
| WebinarNinja | April of 2014 | Csahealthbox Technologies PVT LTD |
| LiveWebinar | January 2016 | RTCLab |
| EverWebinar | March 2013 | Genesis Digital, LLC |
| My Own Conference | Feb 2012 | myownconference.com |
| ClickMeeting | June 2012 | ClickMeeting.com |
| GetResponse | October 1997 | getresponse.com |
| Livestorm | February 2016 | Livestorm |
| Adobe Connect | October 2014 | Adobe |
| Google Hangouts | 15 May 2013 | Google |
| Zoom | 10 September 2012 | Zoom Video Communications |
Conclusion
So, this is the list of some of the best webinar platforms that you can use for your personal or professional use. Most of them are free and also have a premium version in case you have larger requirements. All of these webinar tools provide integration with various apps and make some of the most trusted and recommended platforms in the segment. All you need now is a good web camera, a microphone, and a set of speakers to get you going with your first-ever webinar.
---
Frequently Asked Questions
What is the best software for webinars?
Our top picks for best webinar software are Zoho Meeting, LiveWebinar, and Demio.
What is the cheapest webinar software?
Zoho Webinar and Crowdcast are some of the cheapest webinar software.
Is there a free webinar platform?
Zoom offers free video conference and meeting services.
What is the easiest webinar platform?
Zoom webinar has a lot of features and is easy to use.
Does Google have webinar platforms?
Business Hangouts is a Google Product that can be used for Meetings, Conferences, Events and Webinars.