Roblox is definitely one of the most popular and creative gaming platforms with numerous games on offer for the players. One of the most requested skills in the gaming platform is the ability to create clothes for the characters.
The clothing of a character is very important as it gives a unique look to the player and also makes them look attractive. However, not everyone knows how to create them, and also it is a little confusing for new players. You might often find users searching for terms like "how to create Roblox clothes".
We will be giving a complete guide on how the users will be able to create clothes for characters and sell them for in-game virtual money. The best part about creating clothes in Roblox is the amount of creativity the user gets to make them in any way they like. Uniquely designed clothing is what sets your character apart and is a pretty easy process.
Also Read: Free Roblox Asset Downloader
In order to create the clothes for characters in Roblox, one needs to have a Roblox Premium membership. For those who are new, they should know that Roblox Premium membership was previously known as Builders Club, which offered Builders Club Classic (BC), Turbo Builders Club (TBC), and Outrageous Builders Club (OBC) membership. However, the name was changed and simplified for the users to Roblox Premium membership.
People who often search for how to create clothes on Roblox, land on pages that mention Builders Club. However, since it does not exist anymore, and has been renamed to Roblox Premium membership, there should be no more confusion.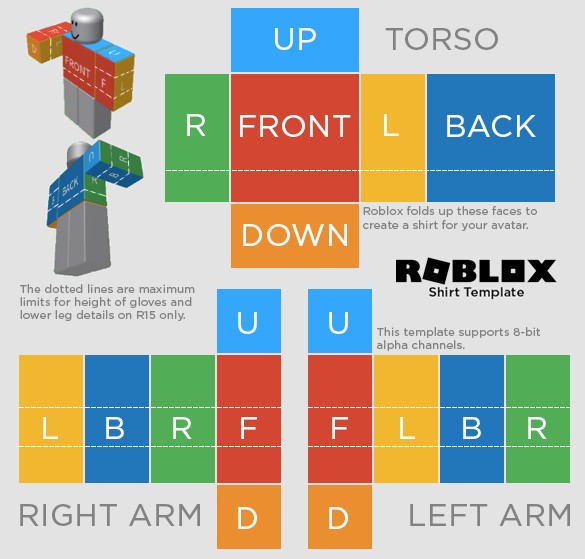 Things to know before creating clothes in Roblox
Download Shirt and Pant reference
Before you start creating clothes in the game, make sure to download the shirt and pant template from Roblox, which will act as a reference to the design that you will create in the future.
Insole Measurements
The measurements of the templates will be 585 x 559 pixels and you do not have to change them in any way or Roblox will deny them and you will have to download it again.
Programs to Edit
To edit the design and create your own clothes it is better for the users to use software that can edit and create vectors, just like Adobe Illustrator or similar. The end result will be more elaborate and defined.
Also Read: Shooting Games on Roblox
Creating Clothes on Roblox
The method of creating clothes could be a little difficult for people who are new to Roblox, however, by simply following the instructions they will be able to do so. When you search for how to create Roblox clothes, you might not find the detailed steps. Therefore follow the steps mentioned here and you will be ready with a new pair of clothes for your character.
After you download and load the template in the editor software, the first thing that you will notice is that each part of the shirt is divided into multiple parts for which you can change the colors individually. The part will be divided into separate shoulders, back, sides, arms, etc. Users can use each part of the garment and then color them accordingly. While searching for how to create clothes on Roblox, these details are usually not available.
However, one must try to provide color to each part to make sure that their character looks unique. The only thing that the user needs to make sure of is not to go over the edges of the part while coloring it. If this happens, it will not be accepted by Roblox and then the template has to be downloaded again and the process will initiate from scratch again. You can save the final image in .png or .jpg format and then upload it.
Also Read: How to get Free Robux on Roblox?
Uploading the image
The uploading process is very simple and can be easily done by the user. Users can simply enter Roblox and go to the "Create" menu, where they can select the option of "Shirt". From there, the users have to click on the "Browse" button and select the image file they have created.
Once selected, click on the "Upload" button, and the uploading will start. If accepted, the process will be completed and you will have new clothes for your character. In a similar fashion, you can select "Pants" or "t-shirt" from the "Create menu".
Selling Roblox Clothes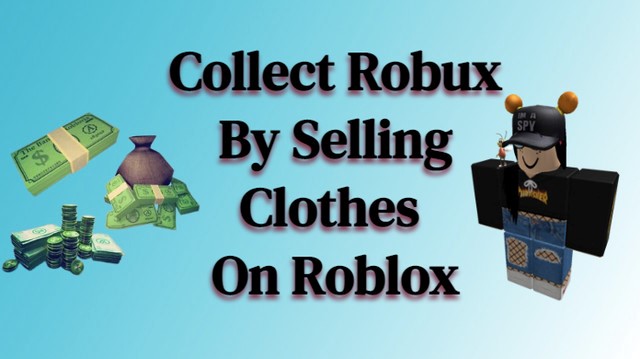 When you search online for topics like how to sell clothes on Roblox, you might get different links but none of them explain the entire process. In fact, it makes it look very difficult. However, the process is much easier than it looks. Also, you can make these clothes and sell them to get virtual game money which can be used to purchase more in-game items.
For this, you need to have the Roblox Premium subscription, similar to what is required for creating new clothes. To sell the clothes, simply follow the process below.
Enter Roblox and login with the Premium account
Go to Create menu and select shirt, t-shirt, or pants
Now click on the "gear" image on the right of the item that you want to sell
Click on Configure and then choose the "Sales" option
On the next sales page, you simply need to turn on the "Items for sale" option and enter the amount of Robux you want to sell the item for
Now click on the Save button and it is available for sale.
Out of the amount that you earn, you will receive 70% while the remaining 30% amount goes to Roblox. The entire process is very simple and will only take a few minutes before you are ready to sell the clothes online in Roblox.
Conclusion
So here are some of the easiest ways to create and sell clothes on Roblox. The next time you are searching for "how to sell clothes on Roblox" or "how to create Roblox clothes", you know where you look. The entire process allows you to have a lot of customization with character clothes and also helps you make a unique digital identity on the game.
Earning through selling clothes will make sure that you have the best features and in-game elements, purchase through Robux you earned by selling clothes.
Frequently Asked Questions
Q. Do we need to have a Roblox Premium subscription to create and sell clothes on the platform?
A. Yes, without the premium account, you will not be able to create new clothes or sell them.
Q.What kind of image editor do we need to edit the template to create new clothes?
A. Normally any image editor like MS Paint will also work, but the result will not be as good. Therefore, it is recommended to use vector editing software like Adobe Illustrator or any other.
Q. How much Robux value should the clothes be sold at normally?
A. Clothes on Roblox usually sell between 10 to 50 Robux and it makes sure that it is not too high priced as well.
Q. Can we create new clothes in Roblox without the template?
A. No, Without the template, Roblox will not accept the design as it can be out of edges, so make sure to use the template only.
Q. Is Builders club and Roblox Premium membership different?
A. No, both are the same as Builders club has been renamed to Roblox premium membership