We have compiled a list of World of Warcraft (WoW) Private Servers available online. Now it is easy for you to choose the best WoW private server:
World of Warcraft still remains one of the most popular online games to exist and it has been more than 16 years since the game has been gaining more and more players continuously. The game is not only popular for its online role-playing multiplayer genre, but also for the new components developers have been adding to it regularly. Due to this, the game does not lack fresh content and gives the player the opportunity to discover new players and features.
However, these changes are not liked by every player on the platform and due to this, they play the game on wow private servers. While the online multiplayer game usually runs on the official Blizzard server maintained by the developers, many users like to run the game on private servers as well.
What are WoW private servers?
Normally the game is hosted on official servers by the developers of the game. However, there are a few ways through which the server-side game can be downloaded and run on a third-party server. Running it on different servers gives the control of the game completely in the hands of the users and allows them to add new features and elements to the game as well.
It will also allow the users to deploy any kind of privacy settings to the game that would not be possible while running it on the official servers. Although the companies do not allow private wow servers, they are still popular and played by many users around the world.
One should make sure that while playing world of warcraft private server, the information should not be made public on the official servers while playing the game or the user could be banned. Using world of warcraft private servers allow the users to play the classic version of the game without any changes or addition and also allow for more optimization and customization.
Also Check: WoW Expansion List
While most of the world of warcraft private servers are totally free, the experience of each one is different. We have compiled a list of the few private servers which will provide you with the best experience of the game. There are four different types of the world of warcraft private servers you can play on, which are Blizzlike (standard), PvP (Player vs Player), PvE (Player vs Environment, RP (Role Play), and RP-PvP (Role Play plus Player versus Player).
Below are the Best WoW Private Servers for World of Warcraft
WoW Circle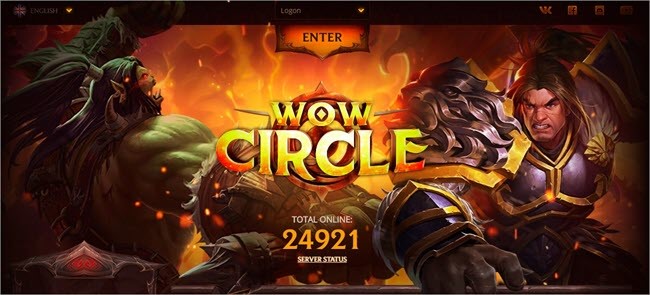 It is one of the most popular and best wow private servers that you will come across. It is not only genuine but also various types of content and modes to play in World of Warcraft. The gameplay is almost the same as you will find on the official Blizzard servers but does include some new components as well.
Website Link: WoW Circle
---
RetroWoW Insta 60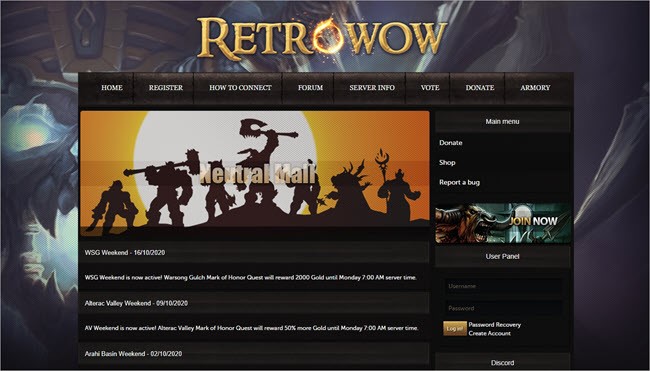 If you do not like any modifications to the original World of Warcraft game and want to play the vanilla or the original version of the game, then this is the wow private server you should play on. It has support for the classic version of the game and you can also level up in the game by making a small payment. It also comes with a popular Raid mode, and many other modes to play on.
Website Link: RetroWoW Insta 60
---
Unlimited WoW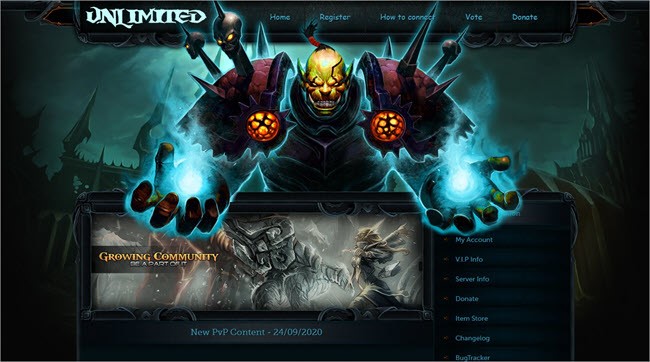 It is of the best world of warcraft private servers and it not only helps the player to experience the original version of the game but also adds a lot of new elements to the game at regular periods. The server is the most stable one out there and provides great gameplay without any kind of delay. The players can also level up to 255 and use a lot of new weapons, gears, and other features added to the game through updates.
Website Link: Unlimited WoW
---
Sunwell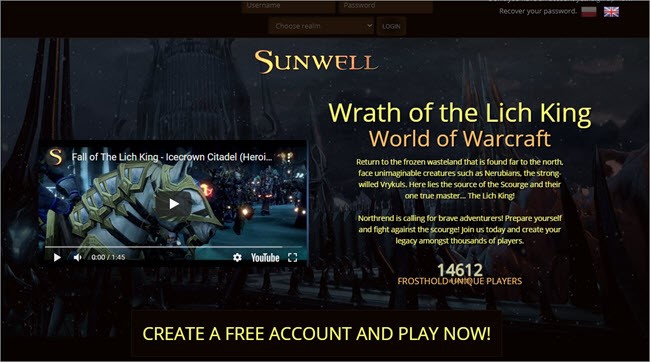 One of the most stable private wow servers is Sunwell and it already has thousands of players playing on it at any time. The best offer for a user is that if they make other users subscribe to it, they will be provided with premium membership free of cost. It also provides the users with a lot of new challenges and changes to the base version.
Website Link: Sunwell
---
Tauri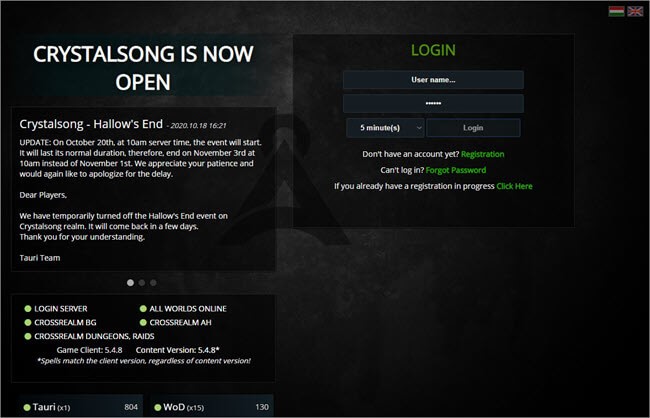 If you are looking for a wow private server that not only provides you with great gameplay but also offers a premium quality experience, then this is the one to go for. The server is actually the least buggy and undoubtedly one of the highest-quality servers in the category. It consists of two realms and has an optimized script for better performance of the game.
Website Link: Tauri
---
Panda WoW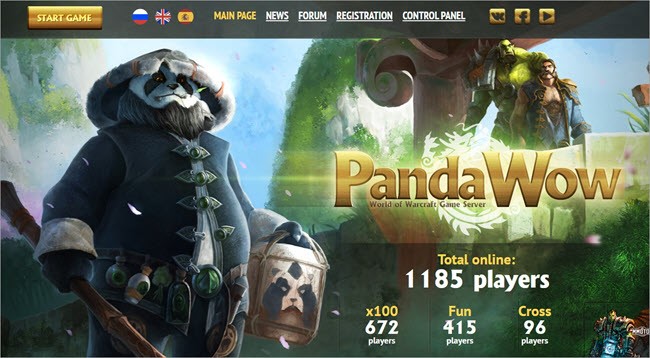 Different realms and multiplayer modes are available on these private wow servers. It hosts thousands of players at any time and is also popular for providing stable gameplay without any bugs. It has been available for a long time now and has the trust of many WoW players. The gameplay is different from the official servers and has a lot of new things to offer the players.
Website Link: Panda WoW
---
Ether Side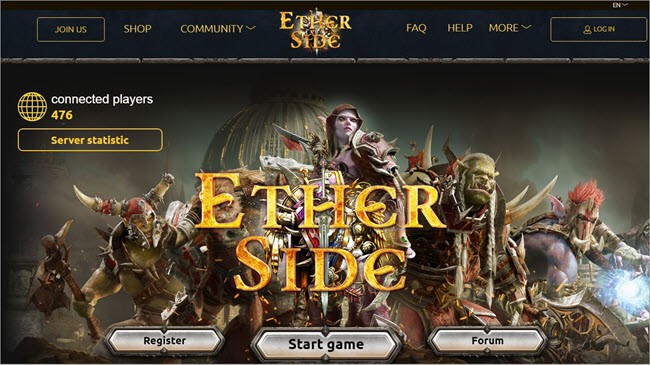 When we talk about best wow private servers, there are some who are relatively new to the platform but have made a good name for themselves during this time. Ether Side is one among them which although new, has been able to impress players from the world over due to lag-free and great performance. It also hosts a popular war mode (PVP) and provides higher points to the player on kills and quest completion.
Also Check: Best WoW Addons
---
WoW Mania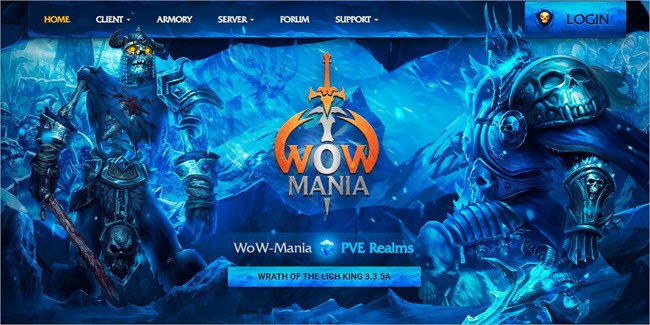 Now, this wow private server provides some unique and great features apart from providing a lag-free experience at gaming. One of the major benefits of this server is that it supports custom currencies in the game and also provides free mount after the player reaches level 10. One of its expansions, Wrath of the Lich King, is also very popular among players. If you want to experience more from the game, you can also go for a premium membership.
Website Link: WoW Mania
---
WoW Freakz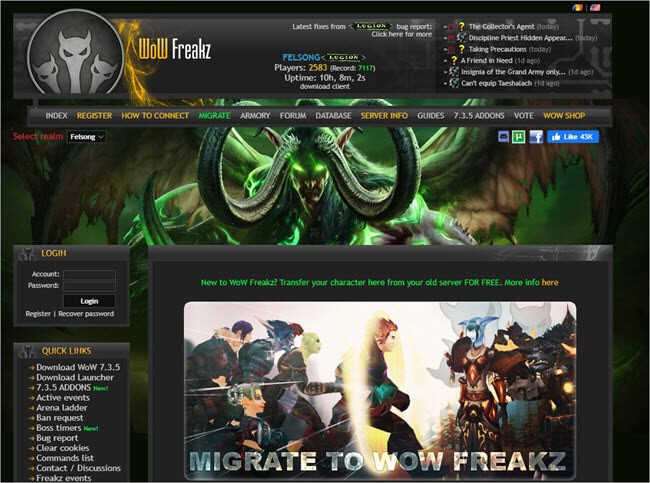 It is one of the oldest private wow servers that is available online and is also one of the best-performing ones of all. It is one of the most desired private servers when players are looking for an alternative to Blizzard servers. Players are also able to add custom characters and a lot of new add-ons.
Website Link: WoW Freakz
---
TwinStar-Apollo II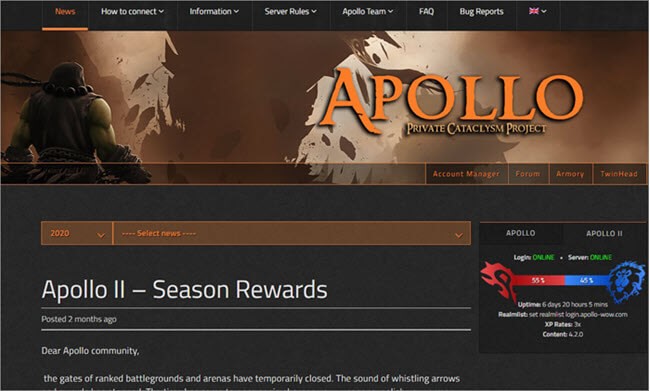 It is a European-based game server that also supports players from around the globe. The players can compete with international players in the same gaming experience as on the Blizzard server. The client is light and small in size and all the services are totally free. Players will also be able to set an x3 rate for accelerated game character development.
Website Link: TwinStar-Apollo II
---
List Of Best Private WoW Servers – Our Picks 👌
| | | |
| --- | --- | --- |
| Game Name | App Size | Website Link |
| WoW Circle | 49 GB | https://wowcircle.net/en/ |
| RetroWoW Insta 60 | 4.9 GB | https://retrowow.gg/ |
| Unlimited WoW | 19 GB | https://unlimited-wow.com/downloads/patch-7.mpq |
| Sunwell | 17 GB | https://sunwell.pl/ |
| Tauri | 26 GB | https://tauriwow.com/ |
| Panda WoW | 12 GB | https://pandawow.ru/en/index.html |
| Ether Side | 75 GB | https://www.rpg-paradize.com/out.php?num=112429 |
| WoW Mania | 19 GB | https://www.wow-mania.com/ |
| WoW Freakz | 48 GB | https://www.wow-freakz.com/ |
| TwinStar-Apollo II | 2 GB | https://www.apollo-wow.com/ |
---
Conclusion
These are some of the best worlds of warcraft private servers that you can experience apart from the official Blizzard servers for WoW. They are not only fun and exciting but will also offer a new gameplay experience if you are bored with the official server. These private servers also come with regular expansion packs and also new elements in the game. Try out any of these servers and you will have a lot of fun time doing so.
---
Frequently Asked Questions
Are private servers Bannable WoW?
Blizzard has the right to permanently ban your account if you were using a private server while playing World of Warcraft.
Are private WoW servers free?
People usually play on private WoW servers since they are free.
Can Blizzard shut down private servers?
Private Servers are illegal and may face copyright issues from Blizzard.
Also Check: Level up in WoW