Best Android Call Blocker: Smartphones and feature mobiles are among the best innovations from technology that have allowed us to reach and communicate with people regardless of distance and where they live. You can almost instantaneously connect with people and talk to them for as long as you want. From the era of landlines to mobile phones, everything has become much more compact and easy to use.
Mobile phones give us the leverage to be contacted by anyone, anytime. However, sometimes, this advantage is what turns out to be one of the biggest flaws as well. With the latest technological advancement, data has become one of the biggest and most valuable things for companies. Due to this, companies often use the same customer data for contacting them and telling them about their offers.
According to recent research, people get around 15-20 calls every day from such call centers or organizations trying to sell their products. It is also called spamming, which unnecessarily disturbs and irritates customers. Similarly, you can be annoyed by different sources as mobile numbers are very easy to find. When it comes to avoiding such calls and specific phone numbers, call-blocking apps are the best options.
They not only help us to block such numbers that annoy us but also keep track of when such numbers call us and how often they tried to contact us, and the app has blocked them. Call Blocking apps are the best possible option for a person instead of blocking the apps manually again and again. These apps are useful not only in blocking phone calls but also messages from the same numbers. Let's have a look at some of the most used and popular call-blocking free apps.
Below is the List of Top Call Blocker Apps for Android
When you search for "how to block a number on android", this is probably one of the first apps that you will find in the search results. It is undoubtedly one of the best apps for blocking unwanted calls and is free. The software will help you to block any messages and calls from a specific number. The app will not only work on saved numbers but also on unidentified numbers as well. The app is very compact and can easily be saved on your smartphone. You can download this app for free from Google Play store for Android.
---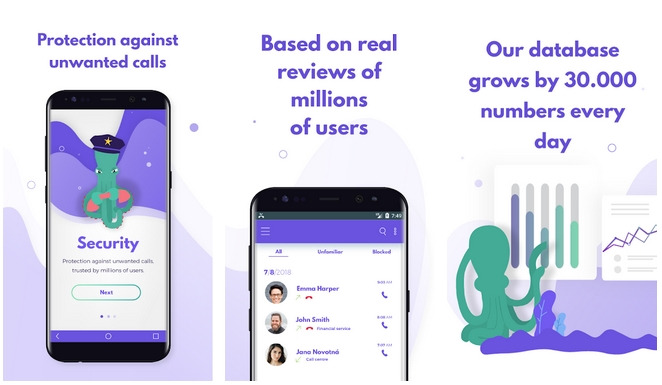 It is a very well-designed and managed call blocker app that allows the user to block calls and messages from a specific number and manage all the call lists into different categories. For example, spam calls can be categorized into Credit cards, telemarketing, unwanted calls, spammers, scammers, etc.
If you receive a missed call from any new number, you can always copy it to search in the app. It will search the numbers from its database, which has been updated by millions of users. If the number matches the spam list it already has, it will be
updated automatically.
---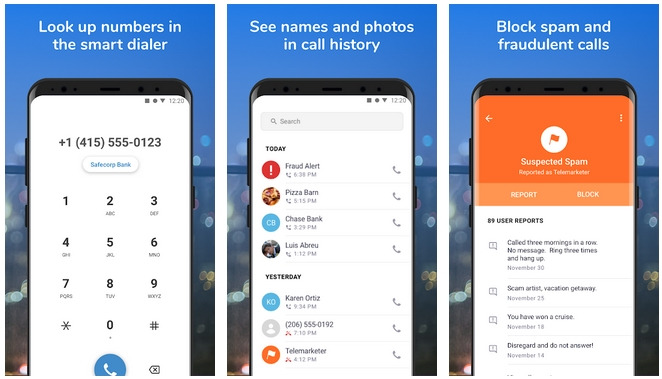 It is, without a doubt, the best android call blocker application for your smartphone. Apart from blocking any spammers and scammers' calls on your smartphone, the app also allows you to block calls from a specific location. You can select a particular city or country, and all the calls from that region will automatically be blocked.
If you want to unblock a number for the blocked region, you will be able to do that. It has a high level of customization available while blocking different kinds of numbers. The app is free to download and use and has a very intuitive interface to use.
---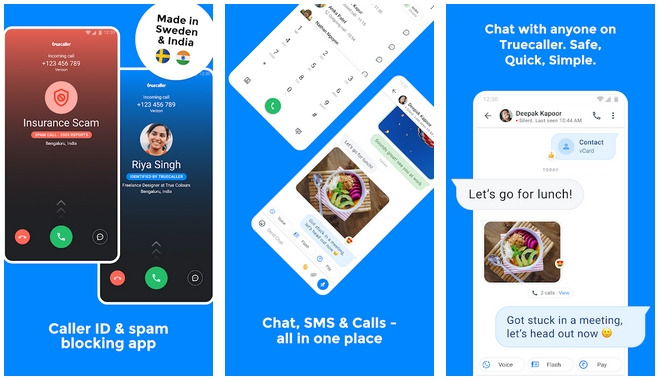 When it comes to the best call blocker for Android, Truecaller is one contender that leaves no stone unturned. If you are using an Android smartphone, then there is no way that you have not heard about it. It is, in fact, one of the most popular call blockers and number-identifying apps on Android. The true caller library has millions of followers that enter the name of unidentified numbers, which is updated in the library of the app.
So whenever any other user receives calls from the same number, the name of the person is identified as either an individual name or spam. The app is free to use and is guaranteed to block any call and message from a number.
---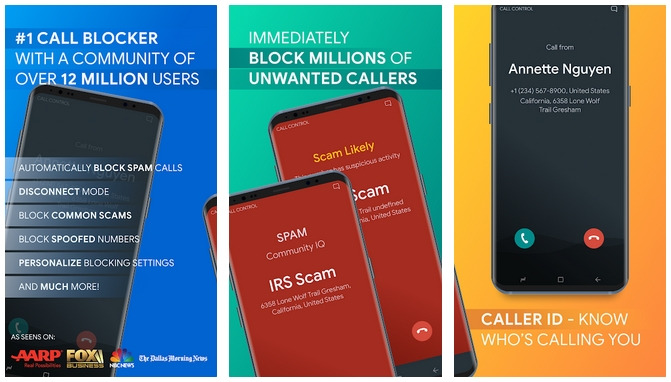 When it comes to Call Control, it is one of the easiest to use among call blocker apps. The interface is very easy to use and easily helps block any number from your contact list or recently dialed and received numbers. The app can also show the details of the number that is not saved on your phone. The details are updated by the users who get the phone from the same number. The app is very fast and efficient to use and takes up very little space on your device. If you are looking for a light app and something that can work quickly, then this is the app to go for.
---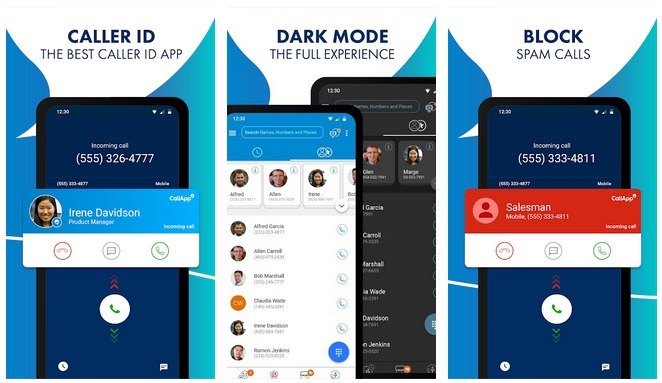 It is a great app and is ranked among the top free call blocker apps. It does block unwanted calls and messages from your phone, but it would also help you clear our contact list if it finds spam or scammers among them. However, it will not block them directly.
It will simply provide you with an alert that a spam or scammer phone number is saved in your contact list, and as per your choice, it can be blocked. If you choose to block it, you will never receive any communication from your contact. Otherwise, you can choose to ignore it.
---
If you are looking for a call blocker android app that is basic and simple to use, even for someone who does not know a lot about tech, this is the app. The app is very efficient and will automatically block all calls and messages for the selected contact.
Since the app is free, it can easily be downloaded from the Google Play store, but being free does make it less important. It is one of the simplest and quickest apps for blocking apps.
---
Safest call blocker is the safest one out there and makes sure that users are not annoyed by the telemarketers anymore. It is one of the best free call blockers on the market and very easy to use. It has a very simple interface, which makes it very easy to use.
The users also get the option of creating a list of numbers and blocking the entire list. The user can also manage the list and remove or add any number to it.
---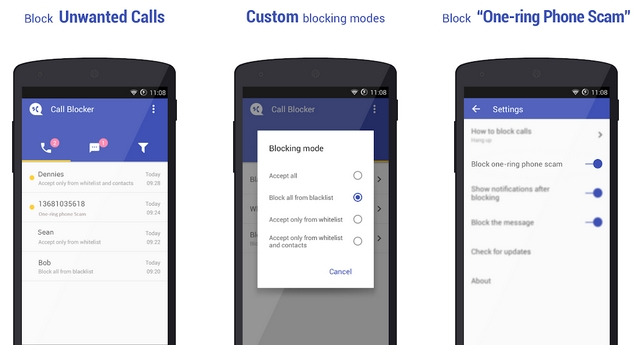 As the name suggests, it is a free call blocker app, and it does the job as well as it says. It might not be one of the top or best call blocker apps until now, but the work done by the app is great. It does not have any complex features or functions and does what it says.
It is great to block messages and calls from unsaved numbers and even contacts. It would also give you the option to create a list of numbers and block them entirely. If you are looking for a no-fuss app for blocking calls and messages, then this would turn out to be a good option for you.
---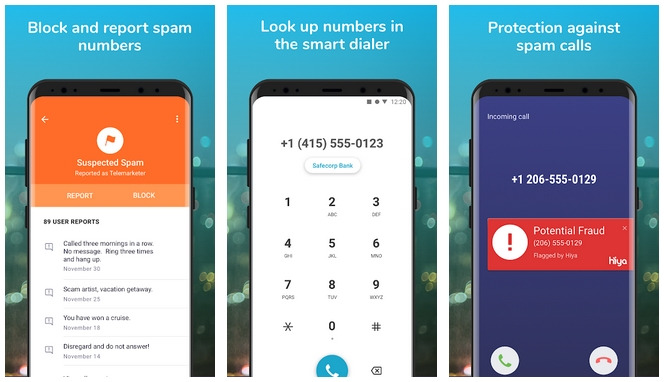 Hiya has been in the market for a while now and has multiple users. The app is very well-built and has an easy-to-use interface for blocking calls and messages. It works on all types of Android devices and is very light and small in size.
The app was also known previously as Call Blocker and White Pages Caller ID but changed its name to Hiya after it was improved over time.
---
Conclusion: Best Android Call Blocker
So these are some of the best call blocker apps in the market right now. These are the best options for you to get rid of any unwanted calls and manually reject them again and again. All these apps are totally free and very small in size. Therefore, you will not require any large space to install them.
Also Read: 10 Best Android Launcher Apps to Try
Also, the user interface for all these apps is very easy to understand and operate. So if you want to end those frustrating and unwanted spam calls on your number, download one of these apps immediately.