Best Cartoon Yourself Apps: Smartphones now are so powerful that they can do almost everything that you can think of. Be it processing power, graphics, camera, or screen. Smartphones now have surpassed the level of creativity that they did a few years back. One major feature that has now become the core of new-age smartphones is its camera.
Camera technology in smartphones can now even compete with some of the best DSLR cameras in the market, which was unimaginable to think of a few years back. Similarly, to edit such high-quality photos, there are a lot of great apps on the Mac and Windows operating systems.
Since their app requires a lot of resources and power, they were not possible on a mobile phone. But ever since the new age smartphones have appeared, these apps can now be used on smartphones. There are many different applications, such as photo editing, adding an effect to photos, photo to cartoon online, and much more.
Also Read: 10 Best Free Animation Apps for Android
One of the most interesting and most liked apps is the cartoon yourself app, which allows the user to create a cartoon image of their real picture. Editing pictures is one of the most important things for youth before posting pictures with friends or sharing them on social media. Using this kind of app not only makes them look cool but also adds a unique touch of graphics to their selfies.
These apps can make you look like a cartoon character, with the same kind of modification that you can often see in a cartoon image. If you like editing photos and making yourself look unique and imaginary, then using the below-mentioned picture to cartoon apps, should surely be a unique experience for you.
Below is the list of Best Apps to Turn Yourself into a Cartoon
Cartoon Yourself App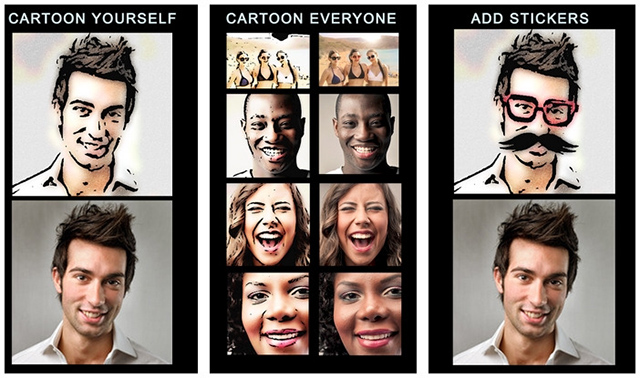 If you really want to change your photo into someone that nobody is able to recognize, then this is the app for you. There are so many features and elements you can add to your face using this app. Among the other cartoon face apps, this is one of the easiest to use as it has an engaging and easy-to-use interface, that makes editing easy, even for beginners.
The app not only adds a lot of different effects to your face but also allows you to create a caricature-like effect on the image. You can also change certain elements on the face like eyes, nose, etc., and even upload the photos directly to your social media account to download them to your phone.
Download Cartoon Yourself on Android
---
Cartoon Photo Editor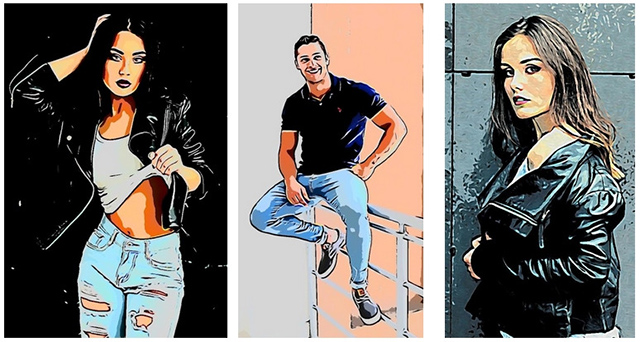 If you are looking for an app that makes you look like a cartoon, your search ends. This app is exceptional when it comes to adding a cartoon-like effect to the images clicked by your phone. The app has so many software elements that the image will look like a graphic image from a cartoon series. The app comes with numerous effects and filters to choose from and provides the perfect artistic effect.
Pencil, sketch, cartoon, and caricature are some of the effects that you can easily get from the software. The real-time speed of the application is great and is one of the smoothest cartoon-making apps in the app market. The app can share the photos directly to the phone or major social networking apps if you choose to.
Download Cartoon Photo Editor on Android
---
FlipAClip: Cartoon Animation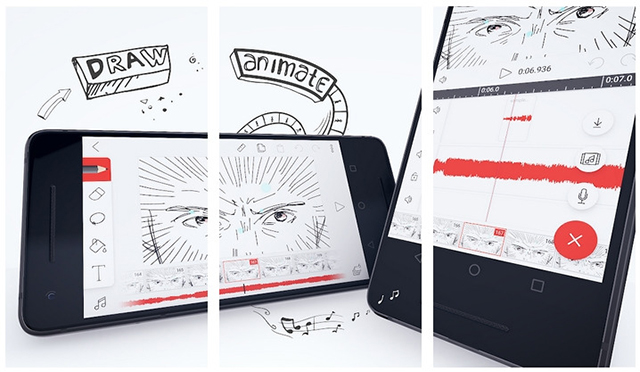 FlipAClip is one of the lightest and smoothest images to cartoon app that you will find. The app is perfect for making cartoon-like images and animated videos as well. The app uses frame by frame method to create a perfect animated video for the users.
When it comes to images, apart from the various filters and effects, you will also have the option of adding sound and video effects. The app also has a large community of photo editors, for whom competition is held regularly, and the winner's artist is rewarded.
Download FlipAClip on Android/iOS
---
CartoonPhoto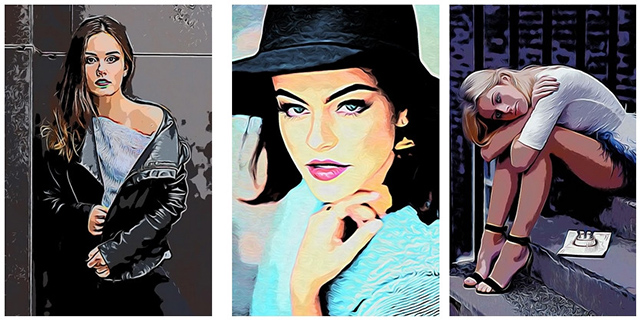 It is a cartoon app for android, which provides a lot of filters and effects for photo editing. If you like to edit each of your photos and selfies before uploading them to the social media platform, this will prove to be the best app for you. It is rated among some of the best cartoon face apps in the app market and is one of the fastest apps in this regard.
The photo editor has a user-friendly interface and can easily share the photos you edit on platforms like Instagram, Facebook, Twitter, WhatsApp, and others.
Download CartoonPhoto on Android
---
Clip2Comic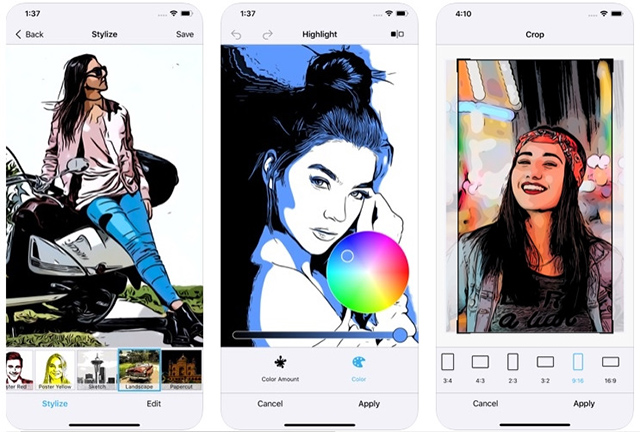 If you are looking to turn yourself into a cartoon app and want to turn yourself into a cartoon or a comic character, then do try this app. The app is excellent in terms of functionality and has an excellent camera integration and live preview feature. The app helps to create a perfect cartoon replica of the photo or a caricature.
The apps are super fast in adding effects, and with just one tap, you will be able to add any kind of effect and filter to your photo. The best part about the app is that it can apply the same image filters to the video, making it look like a running cartoon video.
Download Clip2Comic on iOS
---
MomentCam Cartoon & Stickers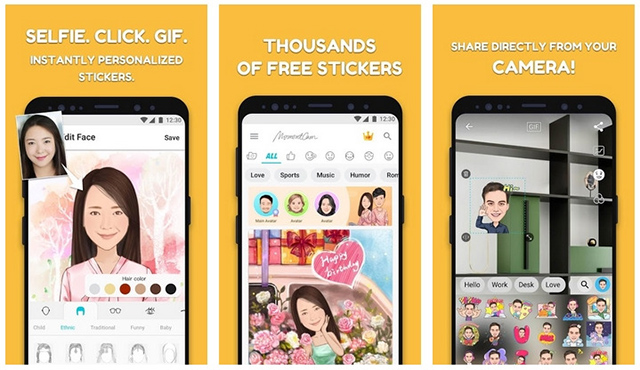 This app is a great way to create pictures with moments and fun elements at the same time. When it comes to cartoon-yourself apps, they are more inclined towards making the character look like a cartoon. In particular, this app provides professional editing tools and also different kinds of elements that will help you create great couple or family pictures with a hint of humor.
You can select a theme, and based on that; you will get a lot of elements to add. The themes can also be downloaded in case you want to edit your photos offline. Once done, you can share it directly on social media and also participate in various competitions.
Download MomentCam on Android/iOS
---
ToonCamera : Cartoon face App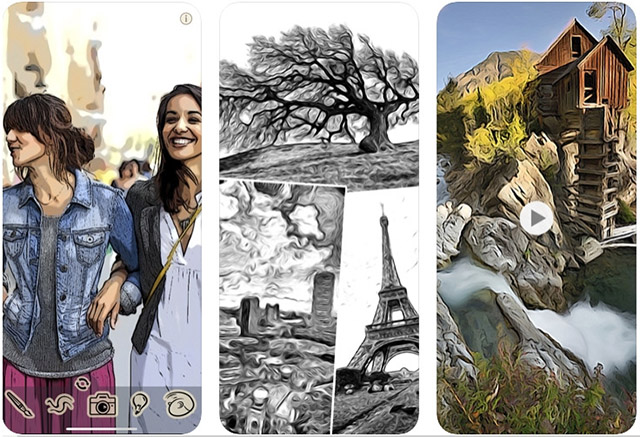 It is a great app to turn photos into a cartoon and is a treat for iOS users looking for a powerful app for editing pictures. The app has a varied collection of features and filters to choose from and can also provide a real-time preview to the user for each effect they use.
The app does allow the user to edit both pictures and videos at the same time and provides a preview for both before and after the effects are added. The highly customizable app allows a lot more modification than any other app and can post photos on social media.
Download ToonCamera on iOS
---
Deep Art Effects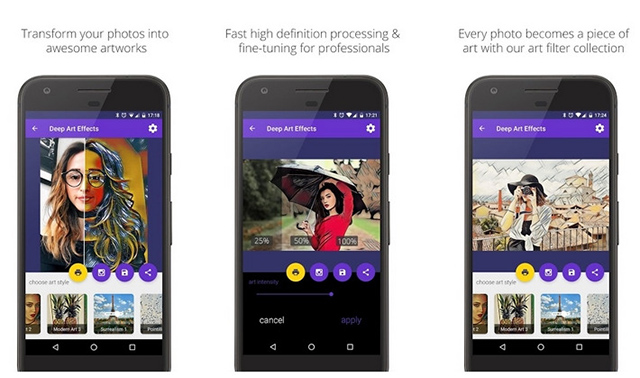 This app can turn pictures into a cartoon, but that is not the only thing about it. If you are looking for an app with a vast number of unique filters to choose from and something that can satisfy your visual thinking, then this is the app for you. The photo processing in this app is what makes it a class apart from other applications in this category.
The app will convert your photo into a strikingly beautiful piece of cartoon art. The app will also provide you a quick preview of the final result that you will get once you apply the filter, which helps you select the art appropriately. It has many artistic styles, such as Picasso, Leonardo da Vinci, Michelangelo, Van Gogh, Rembrandt, Monet, and Dali.
Download Deep Art Effects on Android
---
Sketch Me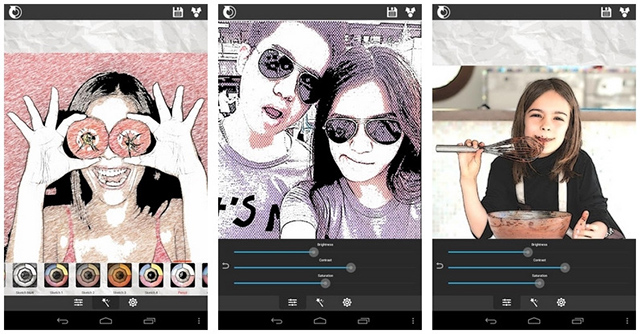 Simple and interactive as its name, the app can create a sketch-like image from the image you have taken from your mobile phone. The details of the sketch that are processed are almost like you have done on a system, on a high-end application. The visual effects in this app are of the highest standards and will allow you to fine-tune the aspects of the image.
The editing part provides you with all kinds of editing options and makes it one of the most interactive apps in its segment. The processed images can be saved on your phone or shared through email or social networking sites.
Download Sketch Me on Android
---
Artista Cartoon And Sketch Cam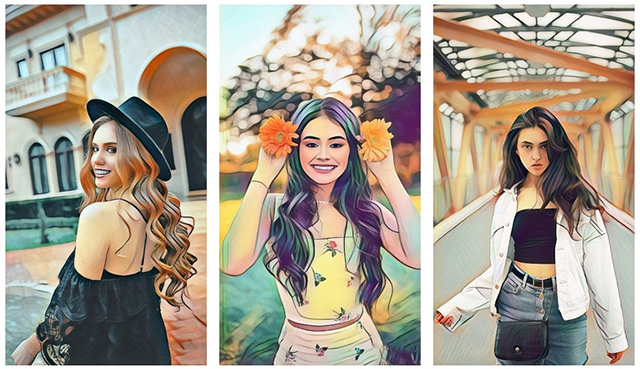 Artista has been one of the most popular apps in the app market and has a user base of millions of users. You can use this app to turn photos into a cartoon and also add creative photographic effects. The app also has a lot of beautiful artistic styles to choose from, and every filter and art can be customized as per your preference and choice. It can also be used to sketch and add geometric shapes to the image.
---
Conclusion: The Best Cartoon Yourself Apps
These were some of the best cartoon face apps that make your image seem like a cartoon character. Apart from transforming your image into a cartoon, these apps come with many different sketching styles, filters, and features to choose from.
The best, above all, is that these features are free of cost. You can also customize these features as per your choice and create a unique masterpiece that can easily go viral on the internet.