Best Free Animation Software Apps: Smartphones are the closest companions for an individual today. It not only helps them to communicate and get in touch with others, but it also helps them play games, do official work, and do stuff that required a laptop or a complete desktop before. Smartphone technology has evolved so much that it can perform complex tasks that were not possible before. One such thing is animation.
Animation requires a lot of power and resources to run, which was not possible in phones made a decade back from now. However, today's smartphones are capable enough of having a powerful processor and graphics, which are more than enough to build up animation on your smartphone. Drawing and animating 2D and 3D characters on a smartphone is as easy as it was done on a laptop or computer.
Be it creating GIFs, vector images, animated videos, adding sound files to an image or video, etc. All of this could be done in a few minutes on some of the best animation apps available for smartphones across all platforms. We have made a list of some of the popular animation apps that provide a lot of different and complex animation tools for smartphones.
The best part about these apps is that they are available for free so there are no restrictions on what your imagination can create. You do not need any heavy laptops or desktops for these, and you can create animations using them anywhere. These animation apps allow you to use your smartphone's powerful hardware and create things that smartphones were not capable of doing before.
Below is the List of Free Animation Software for Android/iOS
Toontastic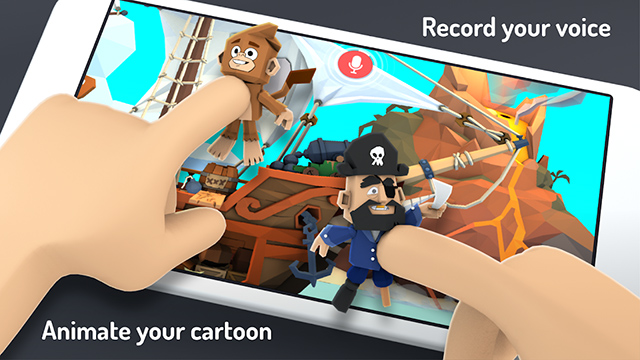 When it comes to free animation software for your smartphone, this app takes the top spot. It was ranked one of the top animation apps for developing great 3D animations and images for the year. It is one of the best for both Android and iOS and can provide you with a variety of free tools that are only available in other paid apps. The app is very easy to use, and so are the tools.
You can create 3D images and animations, and add sound to them as well. You can also make unique sketches using this app, and it also provides free tools to create cartoons. The apps have a very easy-to-use interface and are something that should be available on your smartphone if you are an animation enthusiast.

Download – Android/iOS
PicsArt Animator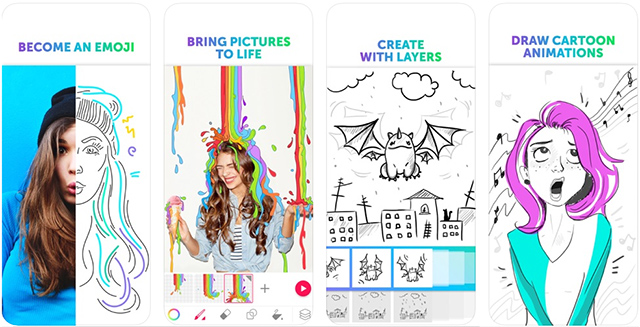 Those who are already into animation and are looking for the best animation software might know about Picsart. It is one of the most popular and easy-to-use animation apps, which already has millions of users. The reason for the success of this app is the free tools that it provides to the user. The app is simple and easy to use, even by a beginner, and available on Android and iOS devices.
You can use the app to make GIFs, cartoon videos, sketches, and a lot more. The app is only limited to your imagination and provides you with the most advanced tools for animation. It is one of the topmost recommended apps for animation creators and image editors.
FlipaClip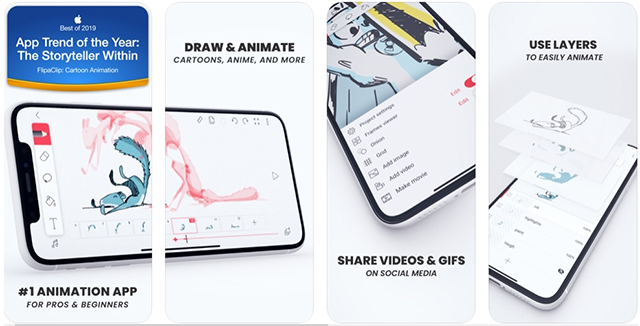 Now, this is one of the most creative and unique apps for creating good-quality animation. It is one of the best animation apps in the app market. The app provides a very easy and simple-to-use video editing tool that can help you to edit the videos frame by frame. You can create animation and video through this software and share these directly with many social networking platforms.
The apps support all kinds of image extensions and can save file in all popular formats. You can also use the application to add any sound and animation to your recorded videos.
Stop Motion Studio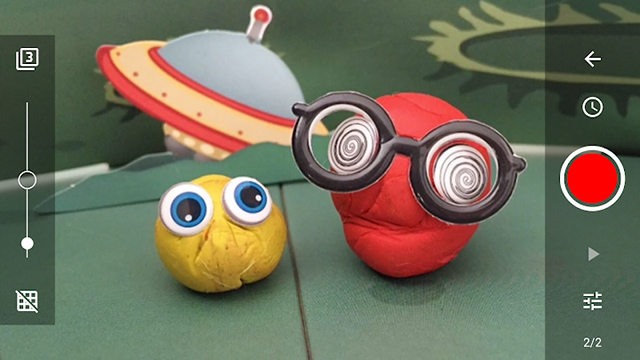 If you are into the stop-motion movie-making industry, then this is the perfect app for you. The developers have created the application in the simplest way possible and have many free tools to animate your video. It has been recognized as one of the best animation apps on both Android and iOS platforms. The apps specialize in providing a lot of tools and features to create a slow-motion video.
The app also comes with many new and unique features like overlay mode, grid mode, and an inbuilt movie editor. The collection of tools provided for this app even beats the one provided by paid apps.
RoughAnimator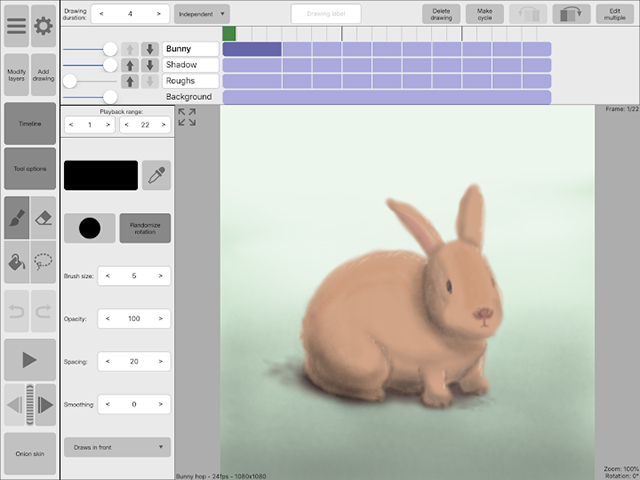 It is one of the best free animation apps to create images like hand drawings. The app is available on both iOS and Android platforms and can help beginners create hand drawing-like images in the app using expert tools. The app has been created so that all the tools are visible and easy to use.
The tool provides the user option to create the frame of the cartoon by frame, making it easier for them to edit it. It is a perfect app to use for someone who has just started working on animation on mobile phones.
Animation Amino for MAP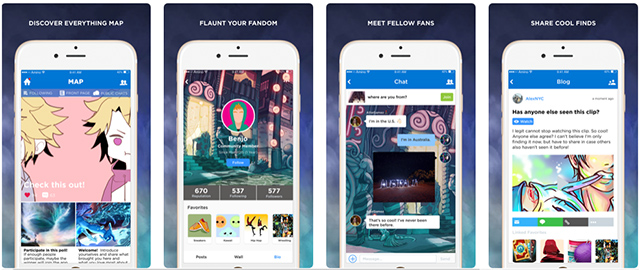 One of the most well-known animation maker apps is Android and iOS and is filled with the maximum features you can ask for in a mobile animation app. The app provides you with the tools to make cartoons and animation and allows you to chat with others and share your project with them.
It can also help you to meet other artists and get some guidance from them. If you are new to animation or have been doing it for a while, this app will surely interest you with its engaging features. The UI is great and easy to use and makes you feel like you are using a professional animation app.
I Can Animate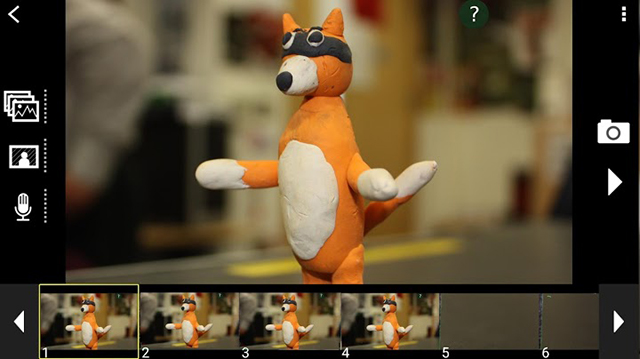 In the list of animation software free, this deserves a spot. This app surely makes you feel like you can do animation using your smartphone. It is also one of the most efficient apps for making animation, cartoons, and slow-motion videos. The app is free and allows the user to use multiple free features, which are very useful. However, they also provide users with a premium paid option, which can be upgraded.
It can help users with video editing and additional animations into it. If you want something unique and different, you can try their paid version, and it is worth it.
Animation Desk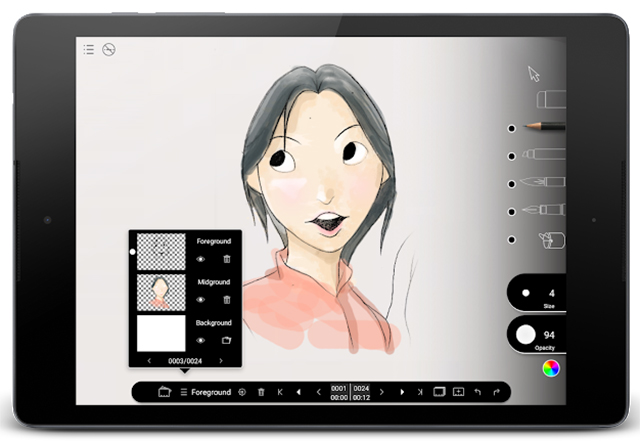 Animation Desk has been a popular free animation app for smartphones, which has tried to add many features for users. It helps the user edit and adds animation frame by frame, making it easier to use even for beginners. You can edit your animation and videos right from scratch. The app can help you to create animations over images and add PSD layers like in Photoshop software.
You will be provided with different tools and features that are only available in the PC software. For a completely professional feel, these apps should be a part of your app drawer.
Animoto
It is very popular and one of the best free animation software in the market for both Android and iOS smartphones. The app provides special features for users to create stunning slideshows, something similar to what you expect from PC software. The app comes with over 100 different slideshow styles and a music collection.
It can be used to create images into beautiful memories and movies. Adding animation and images to the slideshow is as easy as possible, and you can also add songs to your video. It is popular because of the simplicity it provides in using it.
Download – iOS
GIFMob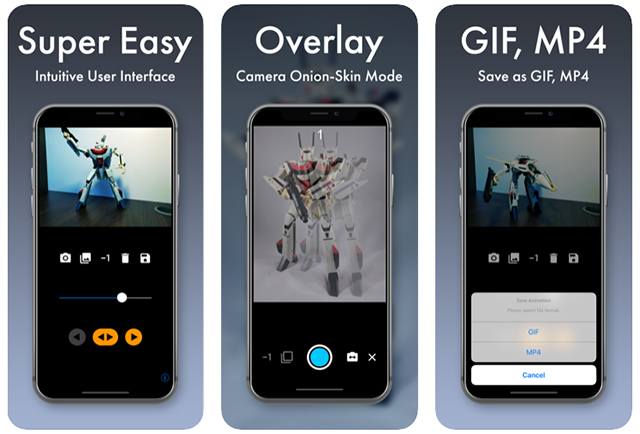 As the name suggests, this app is great for creating a super smooth and remarkable GIF. But that's not the only thing that it can do. It can also help the user create some stunning slow-motion videos and add animation and images.
The tool comes with a lot of different features in the free version. You can also upgrade to the app's premium version, which is worth it, looking at the unique feature it provides.
Conclusion: Best Free Animation Software Apps
These are some of the best animation software that you can download for your iOS and Android smartphones for free. Although in the free version, all these apps provide a lot of different and unique tools for the user that can be used in their day-to-day activity or while making animation.
Also Read: Top 10 List of Free Movie Apps for iPhone
Some of these apps also have a paid version that provides many different and unique features. So if you are looking for some of the most reliable and creative apps for creating animation, download any of these apps, and you will love them.