Best Karaoke Apps: Music is one of the best ways to express your feelings and emotions and has been a global phenomenon forever. This global phenomenon has left many in awe, while many aspire and make their career in music and inspire millions around the world. In today's world of the internet, music is one thing that you can easily search online at any time and select from a wide range of artists.
Now, for people who are interested in listening to music and keep a track of every piece of information to make a career in this field, it is very important for them to practice some of the best tracks to make them better at singing. If you add in good music, it could actually lead to a great track while you are practicing on it.
This can be done easily through a free karaoke app that is easily available online for smartphones and can be a very good way for you to learn karaoke singing. Karaoke is not only a good way to learn singing and practice, but it's also one of the great ways to enjoy a party or just have fun. From kids to adults, almost anyone can enjoy and practice Karaoke through these apps and the best part is that they are absolutely free to use.
You can sing alone or have a friend join in to have a blast while singing to the music of some of the best tracks around the world. Let's have a look at a list of the best free karaoke apps that you should download and get your karaoke party started.
Below is the list of Free and Best Karaoke Apps on Android/iOS
Sing! Karaoke (Smule)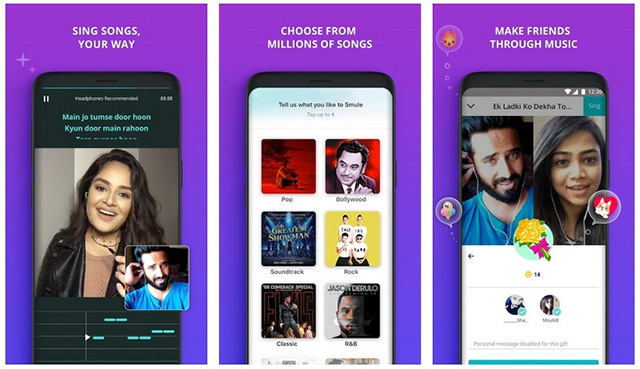 Developed by Music app developer Smule, it is one of the most popular Karaoke apps on the Google Play Store. Since it was developed by the developers of Smule, the app had all the great features. The app allows users to sing with the background music and even record them, with even video recording options available.
You can also add a lot of different audio effects and make your voice background music much better. It has a wide range of international songs to choose from and includes tracks by the most popular artist. It is definitely one of the best karaoke apps with an easy-to-use UI and a lot of unique features to play with.
Download Smule on Android
---
Singplay: Karaoke Your MP3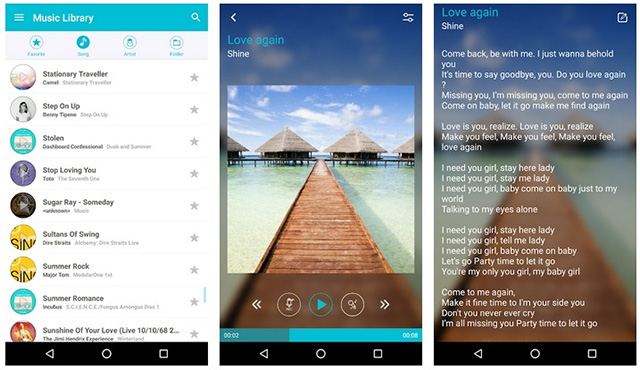 Singplay is yet another brilliant app amongst the best karaoke apps available for smartphones. It is among the top recommendations of many websites and experts when it comes to using a karaoke app. You will get all your favorite tracks to sing and record, and the best thing is that it's available for both iOS and Android.
The free app also allows the user to sing and record, and share the same file with their friends and loved ones. When it comes to the song library it has one of the biggest you will find on any other app. The login process to the app and usability is very simple and easy to do. In case you are new to such apps, then this would be the perfect one to start with.
Download Singplay on Android
---
The Voice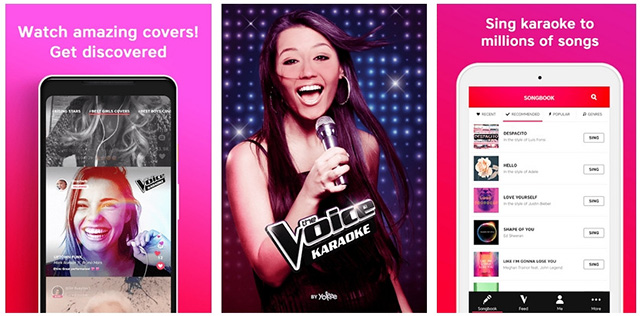 It is another free karaoke singing app that you can find both on the android and iOS platforms. The app gives you the option to search for some of the best songs from its huge song collection. You can even search the library for the most popular song of your favorite artist.
Now the interesting feature of the app is that the more you use the app and sing, the more songs the app will unlock for you and then you can listen to those songs and record them in your own voice. It has a large number of audio effect filters to choose from, which can help to tune your voice. The app is also available with a new name StarMaker Lite.
Download The Voice on Android
---
SongPop 2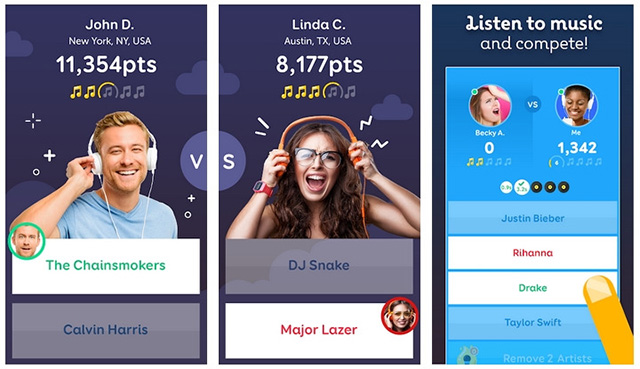 When it comes to music singing apps there are almost thousands of apps you will come across on the internet, but only a few are good enough to be downloaded on your smartphone, One such app is SongPop2. It is one of the easiest-to-use Karaoke apps and is available for both Android and iOS users.
Once you start using the app for free, you will realize that this app can do a lot more than record your performance while singing a song from its library. It will also be a useful app if you want people to see you, as you can share videos with others as well. Be it singles, duets, or adding sound effects, it does all.
Download SongPop 2 on Android
---
Karaoke By Yokee
It is considered to be among the best karaoke software in the region. It is often considered the best free app for this category. You can use this app to exhibit your dancing and singing skills and share them with everyone in your family. Since it is free on both Apple and Android. You can either make a massive compilation or just a single track to simply sing and record it. There are artists whose songs are easily available through the search option and the search engine for music is efficient and fast.
Download Karaoke by Yokee on Android
---
Singa: Sing Karaoke & Lyrics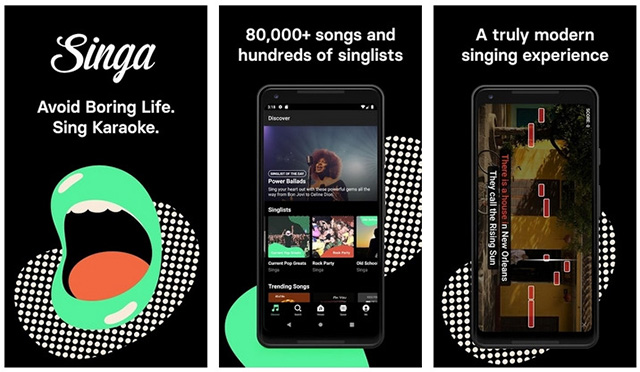 Singa is another free singing app that you should definitely try on your smartphone. If you like to sing a lot of all the new and classic songs, along with your partner, then this app will give you a long list of songs to choose from. The music library of this app is filled with thousands of songs and you will never have fewer options to go with. The audio of the music in the app is of very high quality and also has karaoke-themed lyrics. If you are new to the world of karaoke apps, then this would be perfectly suited to you.
Download Singa on Android
---
Baby Karaoke
The voice-singing app Baby Karaoke is not just another free app that you can use. Instead, the app has been specifically designed for kids who like singing to the music of songs. If your child is interested in music, make them interact with this app. It has a wide collection of songs for kids and it will make your kid want to learn more about singing. Since it is designed for kids, the UI is much more interactive and has good graphics and backgrounds for kids. You can find lots of rhymes and songs for kids to learn and listen to.
Download Baby Karaoke on Android
---
MyVoice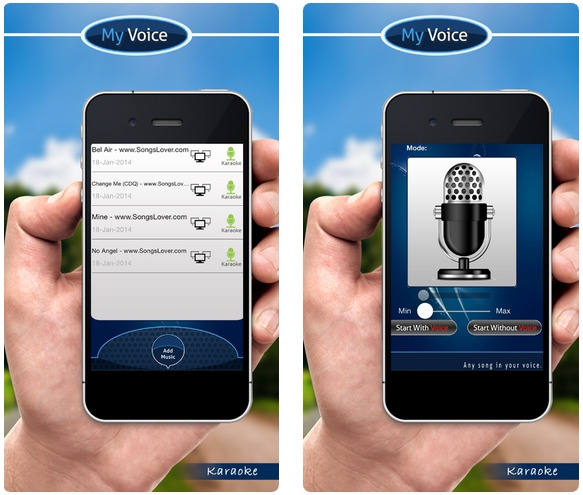 It is a Karaoke app that has been specially designed and made for iOS users and allows a user to sing and record songs. Apart from the songs available in the library, it also allows the user to sing their own or unique songs on the title track of the available songs. The app has been designed specifically for users to locate all the functions easily and use the app efficiently. If you only have an iOS device, then this would be a perfect choice for a Karaoke app.
Download MyVoice on iOS
---
Magicsing Karaoke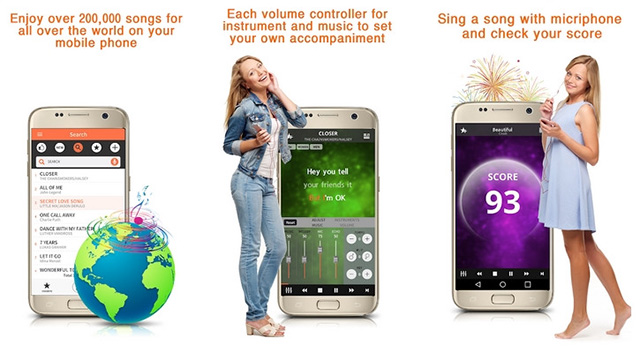 In the list of free karaoke apps, this app would certainly find its name among the best in terms of music library and UI design. The app has been specifically designed for the pleasure of singing. The app has been developed by Entermedia Co., Ltd., and is already a popular app that is used by many. With thousands of songs from all over the world, you can find songs for any popular artist. The free app also provides control of the main singing control room.
Download Magicsing on Android
---
KaraFun – Karaoke Party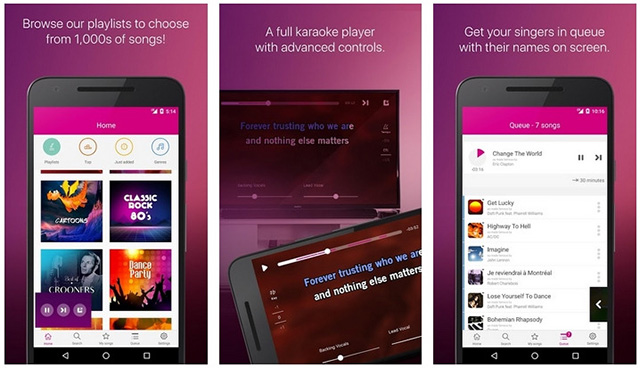 The last on the list is the KaraFun app which is available for both iOS and Android users. The music library has only 25,000 karaoke songs, which can seem less than the other apps. However, if you love to sing with your partner and want specific songs for that, which can be even used to perform in part, then this app is the best free karaoke app that you should definitely have on your phone while going to a karaoke party.
Download KaraFun on Android
---
Conclusion
These are some of the best free Karaoke apps that you can find online. These apps have a large library of solo and duet karaoke songs that you can listen to, sing, and even record them.
Also Read: 10 Photo Printing Apps in Android & iOS
Most of these apps will provide you the feature to directly share them with others. So if singing is your favorite pastime, hobby, or interest, then getting the app should be the first thing you should do.
You may also like: