Best Free Caller ID Apps: If you are using a smartphone, you might have faced a situation where the number calling on your phone is unknown, and you are hesitant in answering the call as you do not know who it is. Also, people do face scammers or scammers calling them again and again with unknown numbers, due to which they have no option to know whether the number calling them is genuine or a scam.
There are many situations where people often like to know who is calling them so that they can decide whether to pick up the call or not. The only option for this is a caller id app. We do face many unknown calls on our smartphones, most of which are spammers and unwanted numbers that we do not want to call us again and again.
At times, these regular calls become so frustrating and annoying to the user. It is why Best Caller Id Apps are most important on a phone as they allow the user to identify who the number belongs to and block those numbers as per their choice. However, selecting a good caller id app is not easy as it needs to have a big library where the numbers have been tagged by other users and need to be easy enough for anyone to use as well. We have collected a list of free caller id, that will help you block any unwanted calls and identify any phone number.
Below is the List of Best Free Caller ID Tracking Apps for Android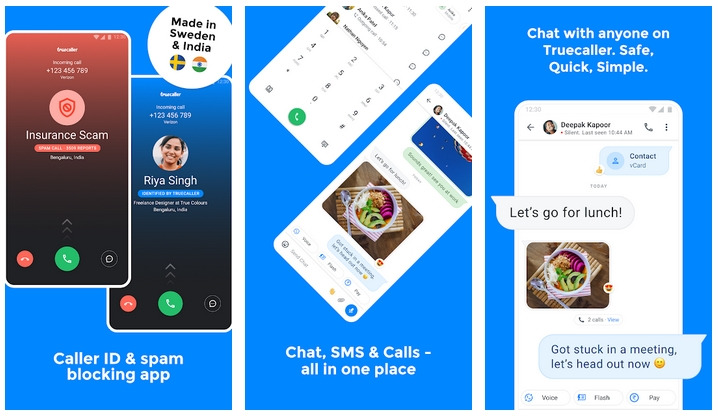 Truecaller needs no introduction as a Caller id and spam blocker app. It is the best caller id app in the world and is one of the first android apps installed by Android users. Truecaller's major highlight is the phone number library it maintains, through the update made by millions of users across the globe. No matter who calls you, copy-paste the number into the app, and it will easily identify the caller's name. The app also has the option to search and display the caller's name while the call is incoming, which makes it easier for the user to decide whether to accept or deny the call.
The app is very easy to use with the option of blocking messages and calls from the number. Truecaller has been adding up many new features, which can easily categorize your banking messages and other types of messages to categorize them. Without a doubt, you can install this caller id app and use it to block messages and calls, apart from the tons of features it has to offer. Once you install this app, it is for sure that you will keep it forever.
---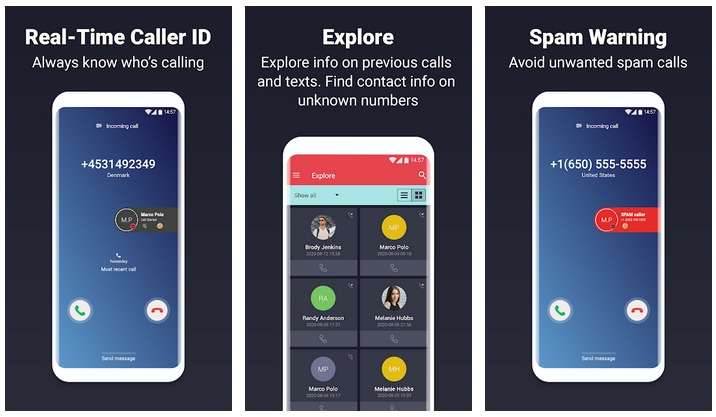 Our second mention in the list of free caller id apps is this app, and it is one of the most engaging caller id apps you will ever see. Just like its name, the app is the CIA in the caller id apps category. The app allows the user to search for unknown numbers and find the user details associated with them. Apart from that, you can use the app to block any number and messages you received from it.
What makes it different from other apps is that it allows the user to search the number for name and address. It is something that no other caller id app offers right now. The app is more focused on features and tried to make all the features easier to use and access.
---
The free caller id app is very user-friendly and has a colorful interface. The app already has millions of installs from the Google Play Store and has millions of active users. The app interface is what makes the make more engaging for the users. It is very easy to use and navigate even for a new user. The caller id app has a large database that stores millions of numbers to identify any unknown number that is calling you easily.
The app also allows you to block any unwanted number for calls and messages. The best part about the app is that you can download the database of phone numbers offline into the app. So it does not matter if you have the internet or not, it will still display the name of the number's owner if it is available in the database. The free version does come with ads, and you can easily remove them with the premium subscription.
---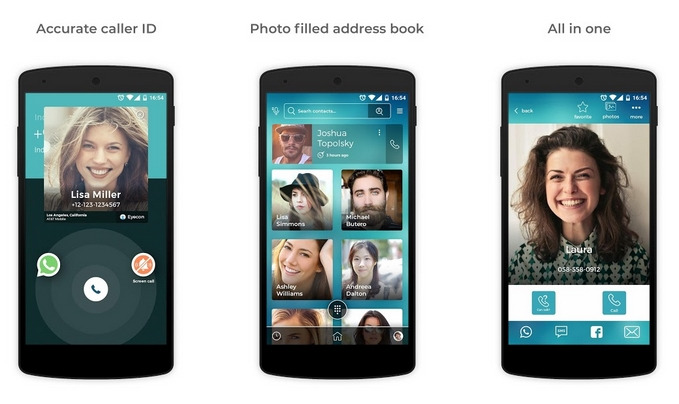 This android caller id app comes with many additional features apart from being a good caller id. If you want to try something different from a common caller id app, then this is the one to install. Although the app is completely free of cost, it is no less on the feature.
The app can help you assign a picture to the contact, which will be displayed in case they call. The app also has a feature where you can automatically start recording a call as soon as it starts. Apart from it, it does the usual call identifying functions and blocks them when required.
---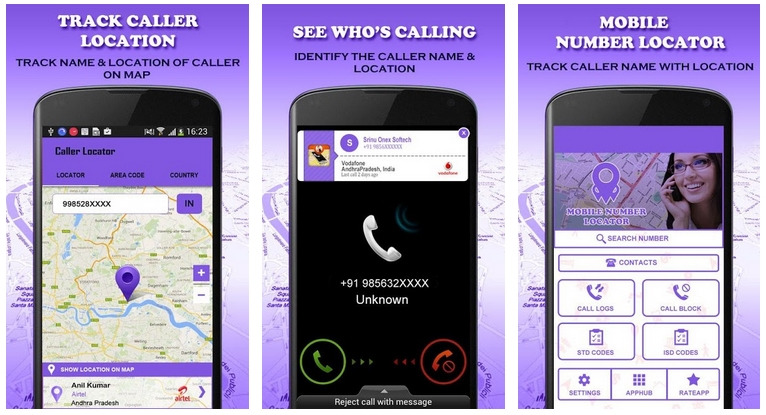 It is a caller id app for android, which helps you to join millions of users worldwide, who are already giving the details on phone numbers in their database. The app has more than four-star rating reviews and is trusted by users for giving accurate details about unknown phone numbers.
The app allows the user to see details like name, mobile operator, operator country, and city. The app has been very well designed to make sure that even beginners could use it easily. For a simple to use and caller id app, this would perfectly suit your needs.
---
When it comes to caller id apps for android, CallApp is one of the oldest ones in existence. Once you install it, you will realize two things: that it is small in size, and second, the look is very similar to that of Truecaller. However, when it comes to functionality, it is no less than any other app.
It will easily identify any unknown number, thanks to its large user database, and easily block any number of messages and calls. The response time of the app in identifying numbers is the fastest among all. Some of the most useful features of this app are Automatic Call Recorder, Phone Number Lookup, and Blacklist numbers.
---
Hiya is already a popular call blocker app that is used by millions of users worldwide, and due to this, it has one of the biggest libraries among all the apps, making it one of the best caller id apps in the market. The real-time detection of the phone number through Hiya is really fast, and since the application is lightweight, it runs smoothly no matter what.
Hiya is a perfect choice for your smartphone when it comes to caller id apps, and it is completely free. With Hiya, you will never have to face any unknown number again.
---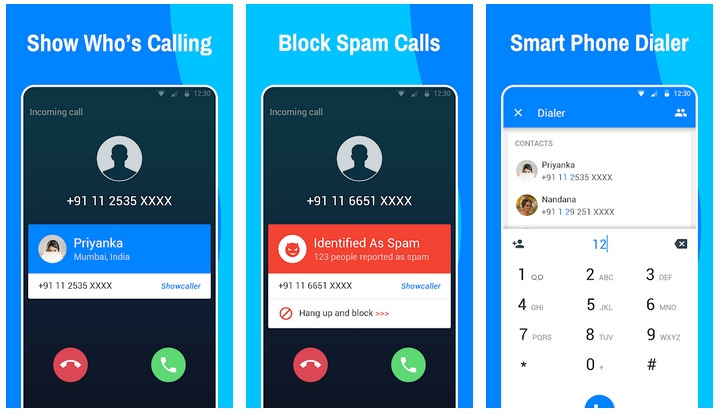 It is another great caller id app in the market, which is very familiar to truecaller in design and interface. The apps are great at revealing the user's details, such as name, address, and other details. The app also provides features to avoid scam SMS and calls, record calls, and block calls from unknown numbers.
The app shows the details of the number as soon as it rings. Also, due to the large database, it will automatically identify any unknown number.
---
If you are frustrated due to a large number of incoming spam calls, then this app will come to save your day. A large database helps the app to identify every unknown number and block it completely if you want. The app tries to provide every feature possible for a caller id app and provides a good experience for the user in terms of usability. As a user, you can also contribute to the names and details of an unknown phone number.
---
Last in the list is as simple to use as its name is. It is among the best free caller id apps in the market and is a great way to eliminate unwanted callers and spammers. As soon as you call someone or someone calls you, the app will show the details of the phone number in real time. The app also allows the users to create a list of numbers they do not know and know the details about them.
---
Conclusion: Best Free Caller ID Apps
These are some of the best caller id apps in the Android Market, and most of them run on almost all Android versions. So if you are frustrated with unknown phone numbers, call you again and again, use the caller id app, or block or identify any user you want.