Best Photo Print Apps: One of the major features that most smartphones now focus on is the camera setup. Camera quality is one of the major features that drive the sales of a smartphone. It provides us with picture quality as good as a normal camera and brings a lot of lifelike experiences into the pictures. When you have pictures like those, it becomes very important to print them to keep them as a memory, but the question arises about the best photo printing app.
Smartphones now come with so much memory space, that every smartphone has hundreds to thousands of pictures, but shifting them onto a computer and then printing them is a tedious task. It encouraged Android developers to create a photo printing application that allows the user to directly print the photo taken from the mobile device and print it.
It removes the tedious process to move all the pictures from the phone to a PC and then print them. Using the apps to print pictures, one can directly print them through a printer using the wifi connectivity that connects them. The process is much easier and seamless as most of the printers now come with wifi connectivity.
It is a great feature both for personal and professional use, where you can directly print any picture or document through your phone. There are a lot of apps for printing photos, and we have curated a list of some of the best applications that you can use for the same. These are compatible with almost every Android smartphone and can be downloaded for free on the Google Play market.
Below is the List of Apps for Photo Printing on Android & iOS
FreePrints – Free Photos Delivered
There cannot be a more popular application to print photos directly from your phone. It is one of the best photo printing apps in the market, which is very easy to use on Android smartphones. One needs to launch the software and select the photos to print it. It would allow you to upload and print the photos from your gallery and help the user print any photo from their Facebook and Instagram profiles.
Its support for various social platforms for printing photos is ranked as the first photo printing application. It can easily run on low-end smartphones and is easy to use for beginners as well.
---
Pic Print App – Walmart Photo Prints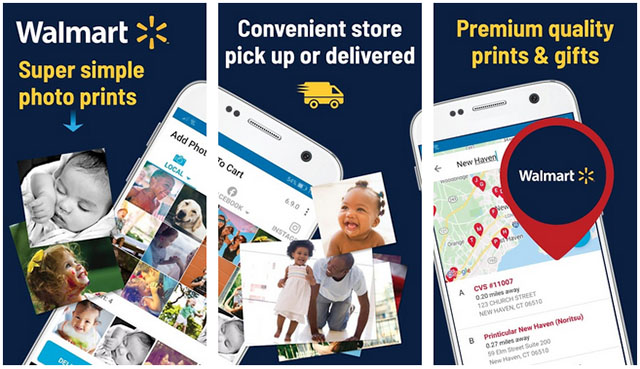 Creating Walmart photo prints through your smartphone could have never been easier. It is one of the best ways to print photos from Android. Walmart will provide the app users with a quick one-hour photo development service that is very easy and efficient for everyone. Upload the photos through the application and the other necessary details, and you will be able to collect the photos from Walmart in an hour.
Not only Walmart, but it also supports many other stores like CVS, Walgreens, Target, Moto Photo, Duane Reade, Navarro Pharmacy, Bartell, Local Photo Labs, Longs Drugs, and Walmart Photo. With so many options to choose from near the user, it has been ranked the first application for photo printing.
---
SnapFish: Print Photos, Cards, Books, Canvas & Mugs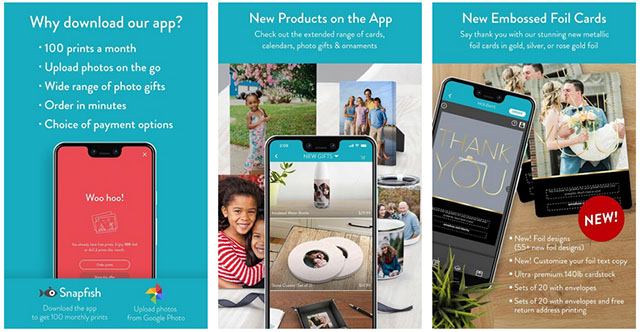 It has attracted many users and is one of the most recommended apps to print pictures from a phone. The app is user-friendly and very easy to use, but what attracts the customers is that it provides 100 pieces of 4×6-sized photo prints for free each month. Users can upload their photos and create customized photo books, cards, etc.
The app and offer are available on both the platforms iOS and Android. The app also provides the user an option to create their albums to print. The process is effortless, and pictures can be uploaded to the application and accessed via both iOS and Android.
---
Photo Prints Now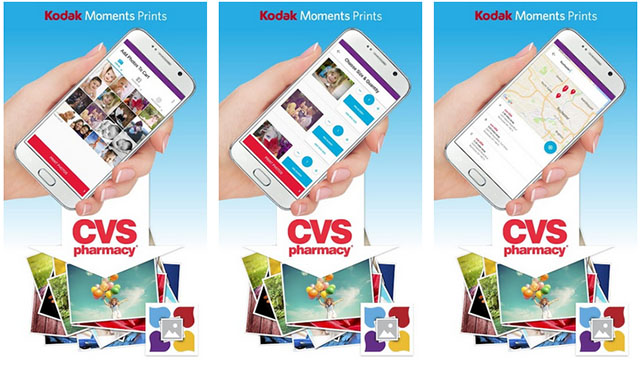 It is a very similar application to the previous one when it comes to printing photos. It will also take the time of just one hour to provide you with high-quality printed photos. One needs to add the print size and upload the photos to the app. Once uploaded, the user can collect the pictures from the local CVS location. It allows you to print from the local gallery of the phone and social media platforms like Facebook and Instagram.
One can also print the picture in the square style of Instagram images in great 6″X6″ photo print sizes. The process is very user-friendly and efficient with the photos easily printed at a nearby local photo development center.
---
Photo Print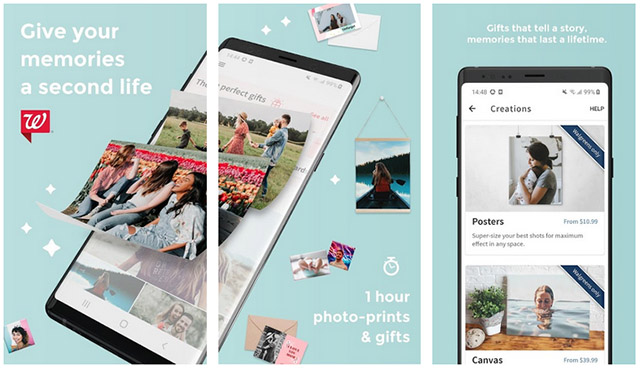 Now, this is a unique photo printing app and is provided by Walgreens. The app is very simple and easy to use and will get you professional-quality printed photos from your smartphone, instead of directly connecting to the printer wirelessly. It will ask the user to specify the number of photos and the print size they eat. Once selected, it will ask the user to upload the photos to collect in an hour from any Walgreens store.
If that is not an option for the user, Walgreens can also have it mailed to their postal address for convenience, obviously for a fee. You can get your photos printed in high quality in both gloss and matte finish. This app's seamless and brilliant service makes it the best photo print app, of all.
Download – Android
---
LaLaLab – Photo Printing Memories, Gifts, Decor
If you use a lot of social media and upload many pictures on it, this might be the app you should install on your smartphone. This app allows the user to upload photos from Facebook and Instagram and print them. The most amazing part about this application is that it can deliver photos to any part of the world, a unique feature.
Regardless of your location, you can install the application and use a few swipes to print picture-perfect social media photos.
---
1 Hour Photo – Fast Quality Photo Prints
As the name suggests, this app guarantees a one-hour service to print your photos. If you are looking for a no-fuss and simple-to-use printing app for mobile pictures, this is the application you should install. You can print photos from a phone app and pick the prints within an hour from 20,000 stores like Target, Walmart, CVS Pharmacy, Walgreens, and Duane Reade centers.
It lets you directly print the picture from your Android smartphone without any issues or difficulty. It also provides users the option to print photo magnets, photo panels, wallet prints, greeting cards, and wallet prints.
---
ShutterFly – Free Prints, Photo Books
Shutterfly has been a popular app to print pictures from phones and is used by many smartphone users. Its popularity is the easy-to-use interface and the quality of service they provide to the user. Not only photos, but can also help you print exclusive deals, holiday cards, and gifts. It provides an unlimited number of free 4×6 and 4×4 photo prints and a free 6×6 picture book every month when it comes to attracting customers.
When it comes to free services, it also provides the user with almost unlimited storage for their photos and memories. The app also allows the user to get a push notification that regularly informs them about new offers.
---
Photo Prints+ 1 Hour Walmart Photo Prints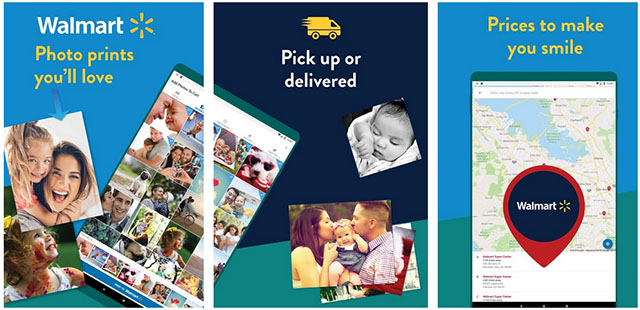 If you are searching for an app that can print photos and let you collect them from a local Walmart store that is located near your location, then install this application now. It not only provides you with normal print quality but also a premium quality Fuji print paper option. You can also select to pay while collecting the photos at the Walmart store.
The app provides the user with a seamless connection to Dropbox, which can be used to upload and save their photos from being selected for printing. If you prefer getting your photos printed from Walmart, this is one of the best apps.
---
Printicular: Print Photos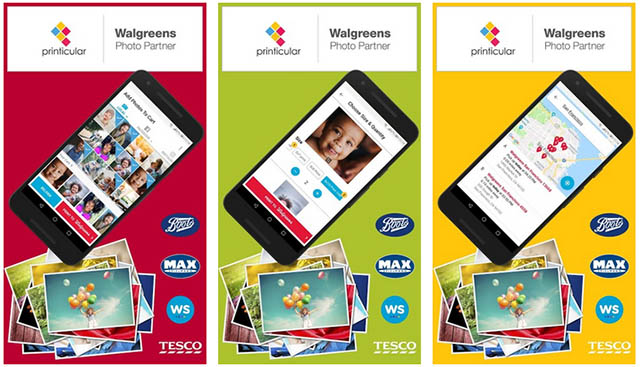 If you are looking for photo printing apps that provide users with offers and discounts, this could be the application for you. It provides a big discount on photo printing and comes with many offers from time to time. One can receive a discount of around 30% when printing the photos through the app and collecting it from the Walgreens store.
You can either print the photo available on your social media account or in the local gallery. With Walgreen, you will also have the option to get the photos delivered to your doorstep.
---
Conclusion: Best Photo Printing Apps
These are some of the few apps for printing photos through your Android and iOS devices. We all know that there are thousands of pictures that we keep on our smartphones and our social media account. However, we do not get the time to print it and keep it as a memory.
Also Read: 10 Best Virus Remover/Cleaner Apps For Android
These photo printing apps will take only a few minutes for the user and make it easy for them to get the printed version. The apps will also allow you to customize the pictures and choose any size you would like them to be printed in. With the availability of getting them delivered to your home, it is one of the best ways to retain and touch your memories.